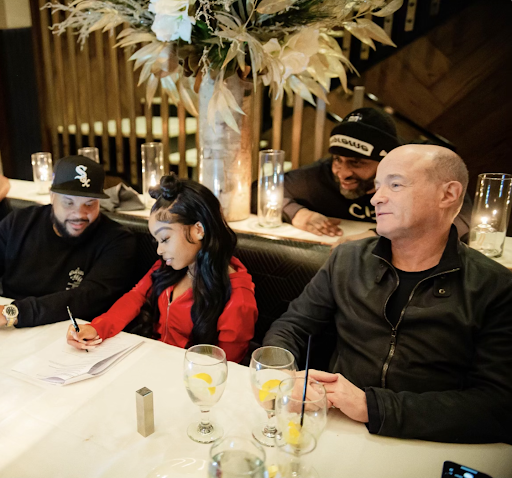 Photo Credit: Gabriel Eugene
Pictured from L-R (Kendell "Sav" Freeman, Lola Brooke, Eugene "80" Sims, David Massey)
Source: The Thom Brand and Audible Treats
Congrats to my colleague Paul of the Thom Brand, the wonderful team at Audible treats, and most importantly Lola Brooke for all of the recent success.
The signing is a career-defining moment for the Brooklyn native and NYC, marking a new era for Lola and the iconic label going forward into 2023 and beyond. The BedStuy bombshell stands at 4'9" with monster lyrical prowess and larger-than-life-confidence. With over 50 million streams to date, Lola's most acclaimed hit, "Don't Play With It," stands as one of the most in-demand songs in today's current music landscape. She takes inspiration from artists like Eve, Lil Wayne, and Meek Mill, spitting with a sultry, yet gritty, aggression and the precision of a sharpshooter in songs like "Dummy Ummy" and her recent track "Here I Come." Rap giants like A Boogie, Future, Cardi B, JT, Meek Mill, and many more have been showing her love, bringing her out to command the crowd at their shows, and exclaiming that she's the next to blow – check out some more clips HERE. 
While Lola embraces the popular drill sound of NY, she takes pride in standing out from the scene with the classic, lyrical NY sound reminiscent of legends like Lil Kim and Foxy Brown. The BK spitter is up next, point blank period. New music is on the way but, in the meantime, you can check out some of her freestyles below!