Written by Leo Lysius
Posted on January 20, 2023 at 11:28 am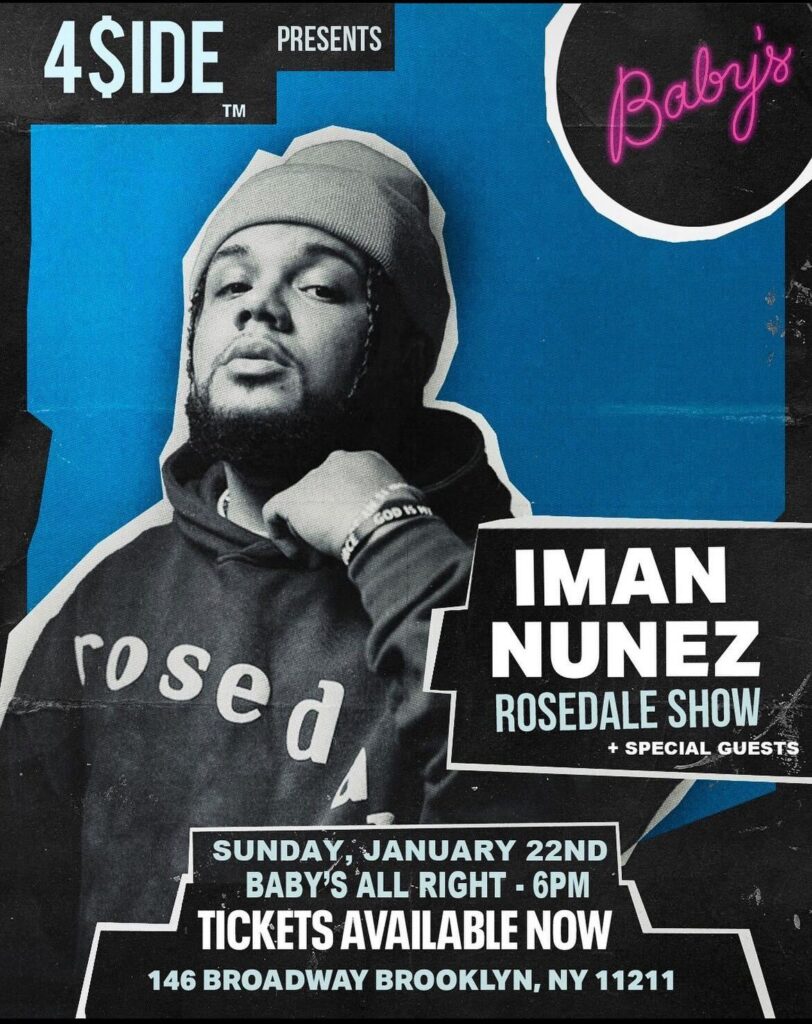 On Sunday, January 22nd, Iman Nunez will be performing at Baby's All Right located at 146 Broadway in Brooklyn, NY. He'll be performing songs from his latest EP, Rosedale. Special guests in attendance. 
For media accreditation: ChanelRae@TheLegionMediaGroup.com
The young Yonkers emcee Iman Nunez is no stranger to self-reflection. Rosedale is a lyrical journal of what Nunez ponders about his personal life while he reaches his goals. His latest single "Pieces" featuring Annalise Azadian is an example. "Pieces" reflected on the aftermath of a breakup and the struggle between holding on and moving on. The single was well received on Rap Radar along with the lyric video that visually shows the emotions and personal moments discussed in the song.  
Check out Iman's latest project Rosedale here.
Iman Nunez– Hailing from Yonkers New York, rapper Iman Nunez always knew that he was meant to do more than just work a regular job. Hip-Hop offered Iman that opportunity, as well as a creative outlet to express himself. His current releases are distributed through Equity (EQ), a division of Roc Nation. He hopped into the music scene in 2016, with his debut To Be Continued, hosted by Hot 97's DJ Enuff.
The success of his debut album afforded him amazing performance opportunities including A3C, the legendary S.o.B.'s., House of Van's. He has shared the bill with hip-hop heavies including 21 Savage, Lil Wayne, Cassanova, PNB Rock, Logic, and more. He was previously signed to Orchard/Sony, and closed 2018 with performances at The Source 360, A3C, along with a sold-out headlined show at S.O.B's. Iman has also been featured on SOHH, Hot 97, The Source, DR Jays, Rap Radar, Beats 1 Radio with Ebro, and Tidal, with a curated playlist entitled Night Drives. 
Tune in to our exclusive interview with Iman, conducted by KhaosTalks below: