Written by Leo Lysius
Posted on November 18, 2022 at 9:45 am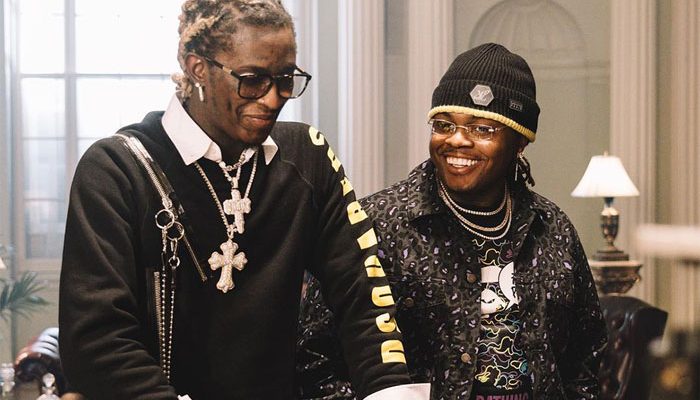 Things aren't looking on the bright side yet for both Young Thug and Gunna (YSL) and they may have a lengthy trial ahead of them come January 2023.
According to The Atlanta Objective reporter George Chidi, the state of George plans on bringing on 300 witnesses to the trial to testify against the two incarcerated rappers in their RICO case next year. Both Thugger and Gunna are just two of the dozen currently locked up after being indicted over gang and criminal involvement earlier this year when they were taken into custody.
George Chidi said in a tweet:
"The state says it will be calling 300 witnesses during the YSL trial, and may require three and a half months. Judge Glanville thinks it will take longer."
He continues:
"This is why I keep saying that the public discussion focused on lyrics misses the point. There is A LOT of evidence in this indictment. Very little changes if lyrics were not being used as evidence, which is why I think the DA should consider setting them aside."
Reports are saying Young Thug (real name is Jeffery Williams) is charged with conspiring to join forces with others for the purpose of illegally obtaining money and property through a pattern of racketeering activity as well as conducting and taking part in the enterprise through a pattern of racketeering activity.
Meanwhile, Gunna (real name Sergio Kitchens) is accused of receiving stolen property as payment for theft, possessing methamphetamine with the intent to distribute, and involvement in criminal street gang activity.
If that isn't enough, prosecutors are also using the rappers lyrics as a source of evidence to back their claims. This ultimately prompted California legislators to pass a Rap Act bill to hinder other Hip Hop artists from going through the same thing.
In other good news, the Atlanta rappers were just nominated for two Grammy's this week for "Best Rap Performance" and the other in the "Best Rap Song" category for their hit "Pushin P." Granted if they win, they will be able to accept their trophies and attend the ceremony in person, which takes place on Feb. 5, 2023 in Los Angeles.
Gunna's lawyer said in a statement:
"Gunna is honored to be nominated for a Grammy award. He has put his heart and soul into his music. To his fans and the Atlanta community in which he lives and works, he once again proclaims his innocence, and hopes and prays that justice will be served and he will soon be freed from this nightmare to return to his music."