Written by Leo Lysius
Posted on November 14, 2022 at 4:59 pm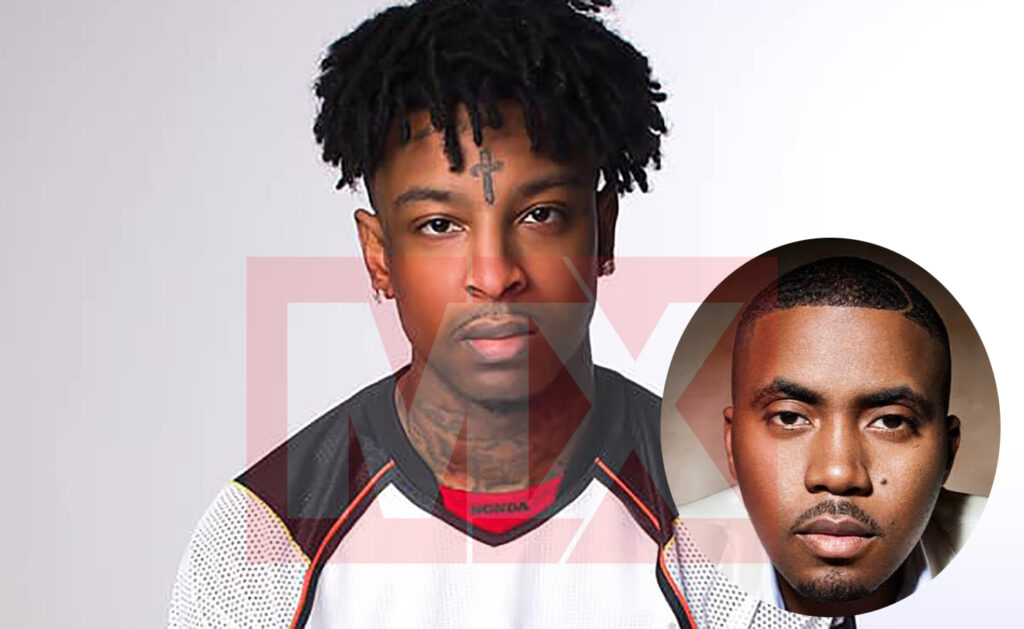 21 Savage shares his thoughts on legendary rapper Nas and his place in Hip Hop culture. The Atlanta rapper made headlines for stating that he doesn't feel the Queens emcee is relevant in today's music and is only still standing due to his loyal fanbase.
21 Savage was on Twitter spaces and Clubhouse over the weekend promoting his new joint project with Drake when he made the statement, which sent social media in a frenzy over his remarks and left an open debate amongst rap fans.
"He's not relevant," 21 said in a clip that circulated on social media. "He just has a loyal ass fanbase. He just has a loyal fanbase and he still makes good ass music."
The conversation quickly saw Hip Hop fans calling out 21 for even speaking on Nas' relevancy. Nas, who just released his Kings Disease III album with super producer Hitboy last Friday is revered as one of today's great lyricist alive and has maintained his place in culture for the past three decades after debuting onto the scene with his debut album, Illmatic in 1994. His album, Kings Disease saw him winning his very first Grammy award just last year after being nominated several times in the past.
21 chimed in on the topics in a room called, 'Is Nas The Greatest Rapper Or What? #KD3,' where he stated his opinion on the matter, to which he received mixed reactions.
"It be cool 'cause it be like discussions and sh*t, but, in reality, though, it's like… we gotta stop tryna treat music like it has to be dissected, and 'Oh, it needs to go this way,' 'They need to do this, they need to do that.' 'Cause, at the end of the day, when we get older–or even at our age now–when we go listen to old sh*t, we don't listen to it because they did this or they statistically sold this, or they dropped every week, or they didn't drop every week. We listen to it 'cause we like it and it puts us in a good mood, bro. Like, that's all it's for, bro."
He then continues with:
"N*ggas saying all of that longevity sh*t; n*gga name somebody else from back then that can drop an album right now."
21 Savage's controversial comments on Nas' current place in Hip Hop comes off the heels after he made claims that he would beat out Kodak Black and all of his XXL Freshmen peers in a VERZUZ battle if he was challenged.
"I'm smoking Kodak," he said on Twitch before reciting his stats. "Before all this Drake sht, I been having hits. I been having diamond songs. I'm probably the only ni*a of this generation to go platinum with no features."
Clearly, 21 is in his confident era after dropping his joint project with Drake recently. Her Loss, debuted at No. 1 on the Billboard 200 with 404,000 equivalent album units, the largest week for a hip-hop album this year.