Written by Terzel Ron
Posted on November 8, 2022 at 8:11 pm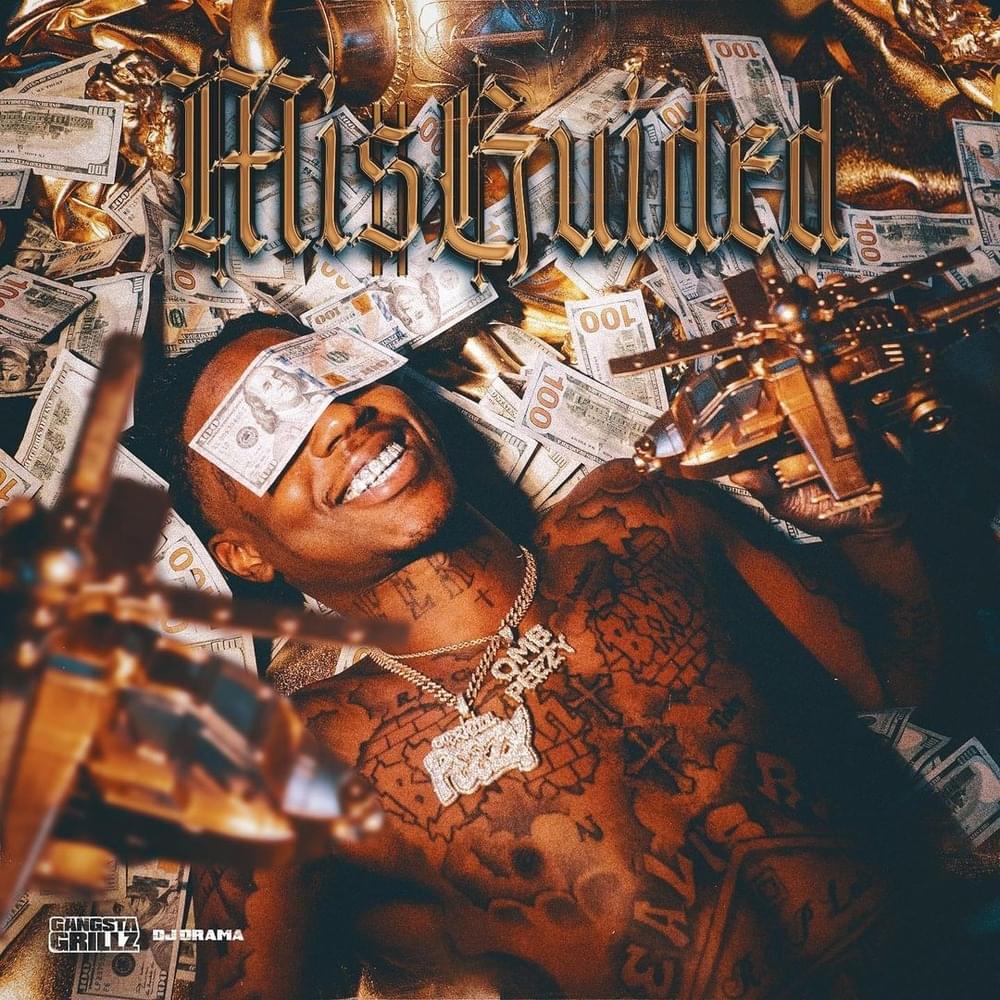 The album cover of Misguided looks like a classic movie poster. Was that intentional?
On God. Yeah, for sure. I really just gave the label the creative. I let them do their thing, and then when $100 bills over my eyes. It was just throwing the money on me and it just fell on my eyes like that. 
My favorite song is 'Simulation.' 
Damn, you're the first person I heard say that's their favorite song. 
Yeah, bro. It's just so soulful. I did want to ask you about some lyrics in there, too. 'Babies killing babies they can't afford. But I respect it because if you bring a baby into this world, you can't ignore them.' What did that bar mean to you? Is that like a note to fatherhood?
It's like, if you bring a baby into the world that you can't take care of, you're not going to love them like you should. I feel like if you're not ready to have a baby, you shouldn't have a baby.
Were you ready when you had your child? 
I wasn't ready right off the bat, but mentally, I had to get ready. And then once I got ready mentally, I had financial shit. So it's like you have to get ready real quick. 
Where does your music style come from? You're from Alabama, but I know you spent nine years in the Bay area.
Yeah, I got like four different types of styles. On God. I like the fact that people think that we're not lyrical. As far as melody and shit. I get that from the South. And that's one thing about the south, too, is like, people will be sleeping on soft lyricism.
You definitely have lyrical moments in your songs. Did you get any push-back for that? Because one could turn up to your music, but you also have some deep insightful lyrics, and I don't feel like all south music had those two elements. Did anyone tell you to just focus on one lane? 
No, not really. I always love the words. I wanted to wow people. 
You linked up with DJ Drama who rocks with some of the best rappers ever. He has "The Warm Up" with J Cole. Dedication with Lil Wayne. "Harder than Hard" Lil Baby. Who was your favorite artist to listen to growing up? 
I'd say Boosie and Kevin Gates. Rich Boy, too. He was the first to pop like, on some mainstream shit. Like he showed everybody we can do it. Like, shit. 
"Big Homie" is probably my favorite song by you. Did you have a big homie that you looked up to on a personal level? 
Not really. I have a lot of cousins. You can watch the older people and see what they do and figure out what to do and not to do. I looked up to them because they were my big cousins, but not like to make it out type shit. In terms of who I looked to as inspiration to do great things, I didn't really look up to anyone because I was always moving. I have always been moving around since I was young, so I never had the luxury of having people to look up to, showing me like, oh, you're going to make it out of shit like me. I always knew I was going to be a rapper, so I always just kept that in mind. I'm going to make it off rapping. People like rappers, people like me. 
For sure. And you started rapping early. You were eight years old, right?
Yeah, I wrote my first rap when I was eight. 
And then you performed it too. 
Yeah. I never really rapped for my momma. I wrote my first song, like at 8, 9, 10. 11. And then I recorded my first one at twelve, but all the way up until eleven, I would rap for my whole school lunch break. And they were rocking with it. That's what gave me the motivation to keep going in. 
A lot of people start rapping like real young. Like Kodak was dropping when he was like twelve years old. NBA Youngboy too. Did you ever want to work with one of them or make a project with one of them?
I don't really like people chasing like that, but I listen to all of their music though. But I prefer going for organic relationships to get features, rather than chasing. Yeah, it's like that. And I feel like I'm telling my story and a lot of people don't fit in my story. It makes no sense to get them on the phone anyway.
Was that how it was with Morray?
Yeah, I feel like Moray got real genuine connections with a lot of people, a lot of other artists. We were already tapped in. 
You definitely got that soul in your music too, so that makes sense. I feel like you're both also funny. You use humor in your music and your marketing strategy. A lot of rappers and I know there's a lot of pain in there and shit like that, but a lot of rappers, they don't really tap into the funny side.
It's just like one dimensional, you know what I'm saying? Like kind of like, 'the music, the music, the music.' And that's cool, but sometimes when you put in the humor, like, you tap into another fan base, you know what I'm saying? I think the problem with that is people act tough, but don't show who they really are. And I feel like you got to show you really are going to bring people in, a lot of people in the world. So you take the ego out of it and you like, 'yo, fuck, I'm gonna have fun. Like the people gonna rock with me regardless.' Just like, I'm going to be myself. That's a form of being scared. I don't care what nobody thinks. I know what I do and I know what I did.
For anybody going through relationship problems right now, give three words of advice to the homies that are having girl problems.
If you're young and you're going through girl problems, leave. If you're older it may be a little more tricky, though. I might text her and be like, 'It's an emergency.' Because if it was a real emergency, you need her to answer the phone.
Talk to me about partying on a yacht with six girls. 
Oh, yeah. On my 22nd birthday, I think I had an orgy with at least six girls. That shit was fun.
Do you ever look back, like, 'damn. I came far, man. 
Yeah. Especially knowing that I always want to do this. I really manifested my whole life. Facts. I really called my life into play. Manifestation is part of my life. Very important part of my life. But, for the people who don't understand what manifestation is, I feel like it ain't nothing but another word for faith. Whatever you believe, that's what it is. Whatever you believe. I feel like every religion teaches manifestation, but with a different word. They call it faith. That's believing without a doubt. Manifestation is believing without a doubt. You can get it. And I really believe whatever I see in my head. Growing up believing, it takes time. I write this shit down and think about it. 
So you take the time to actually write it down too, because that's like another step to the process.
Yeah, it's like you don't just dream about it, you write it down. You got a notebook that you write it down in. 
I know you're on tour right now with Kevin Gates. What's your favorite part about tour life? 
Getting in front of the fans. I'll be talking about my real life. If you feel like I'm on stage talking to a thousand therapists at one time, like, in front of the fans, rapping, that's my favorite part.