Written by Leo Lysius
Posted on November 8, 2022 at 7:02 pm
Rappers Drake and 21 Savage are currently under heat over an unauthorized Vogue cover that they used for the marketing of their new joint album, Her Loss, which was released last Friday.
As previously reported by TMZ, the Hip Hop duo found themselves in legal trouble with Condé Nast, the publishing company that owns Vogue. Sources say they are being sued for $4 million in damages due to promotion of the fake cover, which has been distributed on the streets.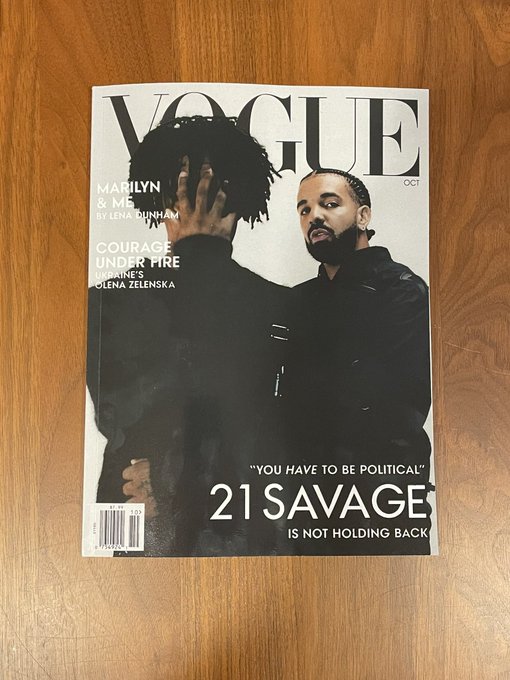 Drake and 21 are seen dressed in all black like the omen on the mock cover, which is seemingly a parody towards the iconic magazine to help build buzz surrounding their controversial album release and was strategically thought out. The rollout lead their fans to believe it was intended to be a limited edition offered by the publication itself, which ultimately is false.
Unfortunately, Condé Nast is making it very clear that they never gave permission to the superstars to use their logo nor likeness for this unofficial release despite Drake shouting out the editor-in-chief Anna Wintour in an Instagram post.
In the lawsuit filed by Vogue's parent company, they have stated that they haven't endorsed the illegal usage of their brand and have requested "multiple times" for all promos using the Vogue name to be taken down, a request that has yet to be met as of today, November 8.
According to legal documents, the two rappers falsely promoted fake Vogue magazine on social media and printed posters distributed throughout major cities. The parent company claims both Drake and 21 Savage's teams have sent emails entitled, "celebrating Drake's Vogue cover" and insisted that their street teams would be passing around physical copies of the unauthorized cover.
But if that's not enough, the LP is surrounded by controversy since its release last week. Drake made references and took shots at a few notable celebrities such as Serena Williams' husband, Ice Spice, Megan Thee Stallion, Kanye West, and DRAM.
Her Loss is currently available on all streaming platforms.