Written by Leo Lysius
Posted on October 26, 2022 at 8:56 pm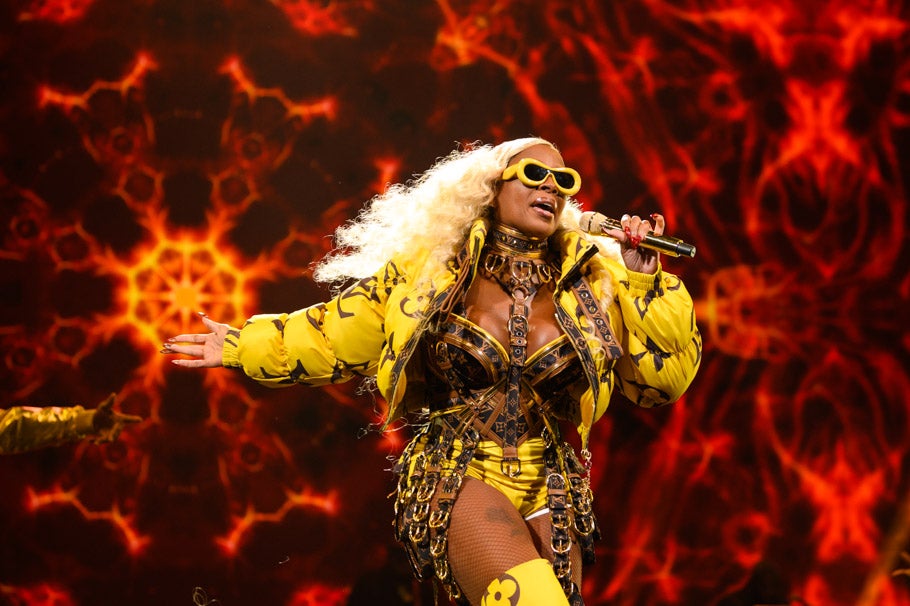 The Queen of Hip-Hop Soul and Grammy award winning icon Ms. Mary J. Blige brought her Good Morning Gorgeous Tour stop to Brooklyn's infamous Barclay's Center for an evening filled with new and nostalgia moments back to back. The sold-out show, headlined by the Yonkers native also featured opening acts Queen Naija and UK's very own Ella Mai.
New York City and Hot 97 legendary DJ Funk Flex was on set to spin and proclaimed his love for the queen, while expressing his frustration with the venue's sound system that night.
"MAN… I APPRECIATE MARY J BLIGE AND SHELBY TO THE FULLEST FOR PUTTING ON A TREMENDOUS AMAZING CONCERT! 20,000 Deep!" Flex wrote on Instagram. "BUT IM SO DISAPPOINTED IN THE BARCLAYS FOR THE WEAK SOUND… RUDE ENERGY AND ALL AROUND LACK OF TAKING PRIDE IN YOUR ASSIGNMENT WAS HARD TO WITNESS! I WASNT GETTING PAID A DOLLAR TONIGHT! I LOVE WHAT I DO AND PROMISED MARY I WOULD BE THERE!"

He continued: "NOTHING CAN MAKE ME LEAVE… COME OUT OF CHARACTER OR RUIN MY EVENING… ITS ALWAYS YOUR OWN PEOPLE THAT LET U DOWN THE MOST!"
Mary, who is an extraordinary performer, and has been for decades came out donned in a head-to-toe monogrammed custom yellow detailed Louis Vuitton look with a big blonde hair and accessories. She burst onto the stage with her background male dancers as she sang through some of her popular hits. She did a few numbers from her most recent Good Morning Gorgeous album ("Amazing") and "On Top," where she brought her Brooklyn's own drill king Fivio Foreign as one of her special guests, but the Flatbush native was experiencing some mic and technical difficulties.
Blige then took us down memory lane as she celebrates the 30 year anniversary of her debut album, What's the 411? with classics like "You Remind Me," "Changes I've Been Going Through," "Real Love" and "Love No Limit" before switching it up and giving us a flare of fan favorites from her most personal and critically-acclaimed sophomore LP, My Life with records like "Mary Jane (All Night Long)" to "You Bring Me Joy" and "Be Happy."
The queen really took things up a notch and got real candid when she stopped in between her set to show love to newcomer GloRilla's hit single, "F.N.F. (Let's Go)," while describing her past relationships with men that had gone sour.
But the evening got even better when the blonde bombshell performed one of her most personal records to date, "Not Gon Cry," which saw the star weeping and hitting notes like never before before continuing with the emotional Norman Whitfield-written, "I'm Goin Down." In addition to Fivio as a guest, Mary also brought out Diddy earlier in the evening for a little dance-off as well as Fabolous for their collaboration of "Come See About Me" and fellow Yonker's star Jadakiss.
Mary continued her trek with songs from Share My World and the Mary album like "Everything," "All That I Can Say" and "Beautiful Ones." Her setlist was filled with nothing but Billboard chart-topping hits from over the course of her three decade long career including albums cuts and some of today's classic tunes. Some of those were the Lil' Kim-assisted, "I Can Love You," "Family Affair" and "Just Fine." What a stellar show from a legendary act. The entire building shouted and sang along to every record, cried and celebrated the journey she's been through before closing out the night with "MJB Da MVP."