Written by Terzel Ron
Posted on July 24, 2022 at 8:36 pm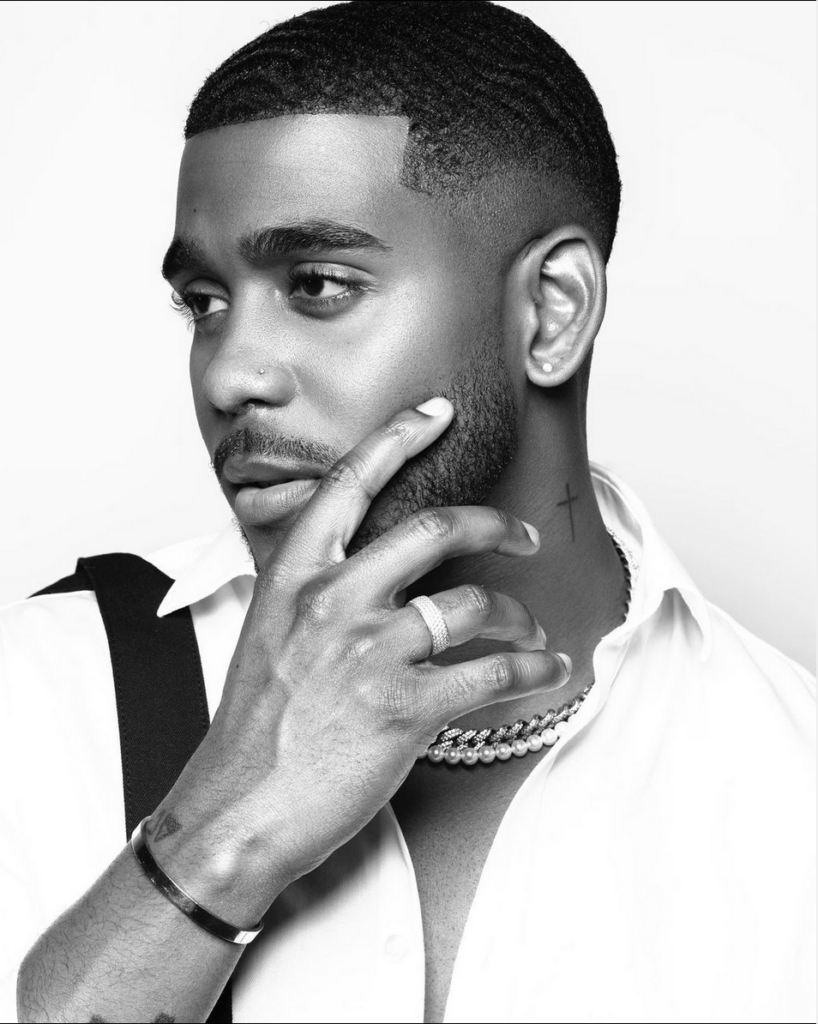 T.A. Thomas, aka Terence Tee can do it all. From teaching himself to play piano as a teenager, to playing in front of his mother's packed-out congregation every week, stage presence was something he cultivated early in his career. Born and raised in the Mississippi delta, Thomas was practically born in church. While he was setting souls on fire on Sunday, he began honing his chops as a performer at local talent shows and developed a passion for R&B. "I'm a church boy, but I love R&B and I couldn't take my shirt off on the gospel stage," he laughs.
After leaving college to tour with Grammy award winning gospel group, James Fortune and Fiya, he was afforded an opportunity to form the highly acclaimed boy band, Next Town Down. With Next Town Down, he gained over 100 million streams and released musical projects, including The EP [2018] and Juliet [2019], which boasted collaborations with 6lack and Rich The Kid. 
Terzel Ron caught up with T.A. Thomas (@terenceteee) at the Roxy Theatre in Los Angeles ahead of his performance to chat about his journey, career, and future goals.
Tell me about right now, performing at Unrestricted Live and what that means to you. 
Man, to be honest with you, it's really an honor. To those who aren't familiar with LA, to be performing at the Roxy it's an honor. Just to be here with this lineup, my brothers Tone and Davion, yeah I'm super excited and pumped for tonight man. 
Totally. You said this is your first solo performance?
My first solo performance dude. It really is. 
It didn't sound like that!
I performed before. But there's specifics to it. It's my first solo performance with original records. Let's say that. 
You're right at home on the stage. You're wearing sweatpants and Gucci flip flops right now. That tells me that you're very comfortable on stage, almost at home. Talk to me about the journey of getting to this point of comfort – growing up performing in church at the age of 5. Talk to me about what that upbringing did to you. 
Man you know. I'm from a little small town in Mississippi called Hollandale. Of course, Mississippi being in the Bible Belt, I'm a preacher's kid. Being in church, singing with my sisters from the age of 5 and 6, even younger to be honest man. To go to college and sing in the local nightclubs. I've been doing this for a while and I kind of find solace on the stage bro. It's my comfort space. Looking out into the crowd and seeing somebody smile, the glow they're holding and the light, to me that's what it's about. Being able to connect and being like "I can take you there." That's what it is for me bro. 
You already know when somebody can really feel it. Does that give you extra motivation on stage?
Yeah bro. I'm a very spiritual person, you know. Being on that stage, I don't take it lightly bro. I feel like it's a spiritual experience for me. 
You can't take your shirt off when you perform Gospel!
You know what I'm saying? And that's exactly why I had to go slip on over to R&B. I still got a lot of love for Gospel, through my sounds. Maybe I'll have a spiritual project coming out. But yeah dude, being on stage man and being able to have all these songs come out and be Gospel influenced. That's what I'm excited about. 
Growing up in Mississipii, was performance embraced? I know your mom was a Gospel singer but a lot of times family can't really see the vision. 
Bro I think that was mainly outside of my family. My family always knew my passion for music. Being a fan of Tank at a very young age, I think I was able to straddle the fence a little bit between church and R&B. My family always knew I had a big drive for R&B. They didn't judge me, they pushed me. I think it was moreso outside people that made me feel like I was doing something back. 
I know you just mentioned Tank. Who are some of your biggest influences?
Man, some of my biggest influences are Tank, who is my brother, big homie. Mario, Brandy, Donnie Hathaway, Joe. That whole R&B sector of guys who are musicians. I play the keys, so I really connect with musicians as well. Donnie Hathaway, Aretha Franklin, those are just a few of my inspirations. 
How many of them have you met?
I became friends with Brandy recently. Tank is big homie. Got a chance to chill with Mario. 
Talk to me about linking with Next Town Down. 
Bro, so it's been almost 6 or 7 years now that I've known these guys. We met on social media, were following each other and someone thought of the idea to form a group. It just so happened that it was the time of the New Edition movie and some guys from Sony were looking to start a group. We started by doing covers on Music.ly, and it helped me find my sound because we were recording for 6 to 7 years non stop. 
What does Next Town Down look like now?
We're still tight, writing and creating together, and some of us even still stay together. 
A lot of people have a certain perception about boy bands. One Direction was put together by a talent show, but you guys put yourselves together. Talk to me about that dynamic juggling friendship and being productive. 
The years we spent together not in a creative mode made us really comfortable with one another. It created a brotherhood – just chilling, hanging, cooking. Music wasn't even the subject of conversation. For us, we wanted it to feel like the living room. The process of creating records was so easy – no bumping heads. It was more like "bro, that's definitely your part."
What's your favorite and least favorite part of being in a guy group?
When you hit that stage, you don't have to hit it alone. If you're having a shitty day, vocals not too clean, you can always depend on somebody. They negative stigma that guy groups dont work is the worst part. We're all so different, and it can be a battle sometimes but we push through it. 
What kind of performance rituals do you have before you get on stage?
I like to worship bro. Everything goes back to those roots. Prayer, gospel. 
Any studio routines before you make a song?
The area has to be really clean. There has to be a scent. I love patchouli, I love woody. I love smoky scents. I'm real big on scents. It's really setting the vibe. 
You got candles in there?
Bro, all of that. Le Labo. I got rose petals too. 
You serious?
Nah, no rose petals (laughs). That's that Babyface right there, Ima let him have that. 
What is your favorite song to perform live?
It's yet to be discovered, because I'm just starting to perform my original music. 
Have acoustic performances been a good marketing tool for you in order to help the masses see your music?
100% bro. I'm covering songs because I love it. To see the insights in my covers definitely gives me a look into my fan demographics. To see what people like responding to, whether it's R&B or pop. 
Is there a favorite song you like to cover?
Probably Joe's "I Wanna Know." That's the one, not the two. 
Have you ever thought about releasing a full length acoustic project?
Bro, you're giving me ideas right now. I really would. I have a special relationship with the piano. Tank actually did two of those during the pandemic. All piano, two EP's, no other instrumentation. No background, nothing. 
I know you've covered Jasmine Sullivan, Usher. Have any of these artists reached back out to you?
Well, that's how my relationship started with Brandy. As you know, she's from Mississippi as well. She saw my cover and reached out on Instagram, and we became friends. 
What was it like getting a random DM from Brandy?
I was like 'this shit ain't real.' I was really geeked out. She invited me to the house and we just vibed out on the piano. I only cover what I like. I don't even cover songs with the intention of them being noticed. Those 4, 5 minute covers, I know whatever comes from it is going to be something, because I don't just cover shit for fun. 
Are there any artists that you would love to work with?
Pharrell, Joe, Chris, Mario. Lil Baby, Ty Dolla Sign. Usher, Eric Bellinger, Jasmine Sullivan. Beyonce. Everybody that's in the industry right now. 
'Is This Love' samples 'Can You Stand the Rain. What is the album creation process like, and to finally be at the finish line to a certain extent?
Dude. It was during the pandemic when we got started. I collaborated with this amazing producer named Harmony Samuels. And a bunch of top line writers, Varren Wade who wrote 'Heartbreak Anniversary.' Pooh Bear, wrote just about every Justin Beiber song that's out there.
Any pre-show rituals?
We really big on the honey, bro. The 'moisturization of the vocalisis muscles.' The honey. No sugar. Chammomile tea, good for inflammation. No shit, I really have this down to the science. But yeah man, project dropping soon, I don't have a release date right now. But I'm really excited, working with Harmony and the rest of these writers, creating this project. You know, just a young man in LA, experiencing love, in and out of love. That's what this project is.
You left college to pursue your dream. How nerve wracking was that?
Probably the best decision I've made due to the opportunities I've come into. But one of the hardest, leaving in my Senior year. Bro. It was when I met the guys and we weighed. My people always knew my passion for music, and I couldn't do both because I didn't want to half ass. They got it. If it wasn't for them, literally there wouldn't be any of this. It's my goal to finish it online, but my family tells me whenever you're ready. College will be there, but opportunity will come and leave sometimes. 
It's important to talk about mental health. How is that managed for you?
It's real simple. I love the Lord, I love God. I always create a space for him, trusting him to order my footsteps, direct my path. I feel like that's something that will always keep me grounded. The Bible says you have to pray, fast, and meditate. I always try to do that and make time for God. It's really taking care of your health, eating good food, the gym, having friends that eat healthy and work out, just a circle of healthy relationships and healthy boundaries helps you create a good framework in life. People will help you get back on track.