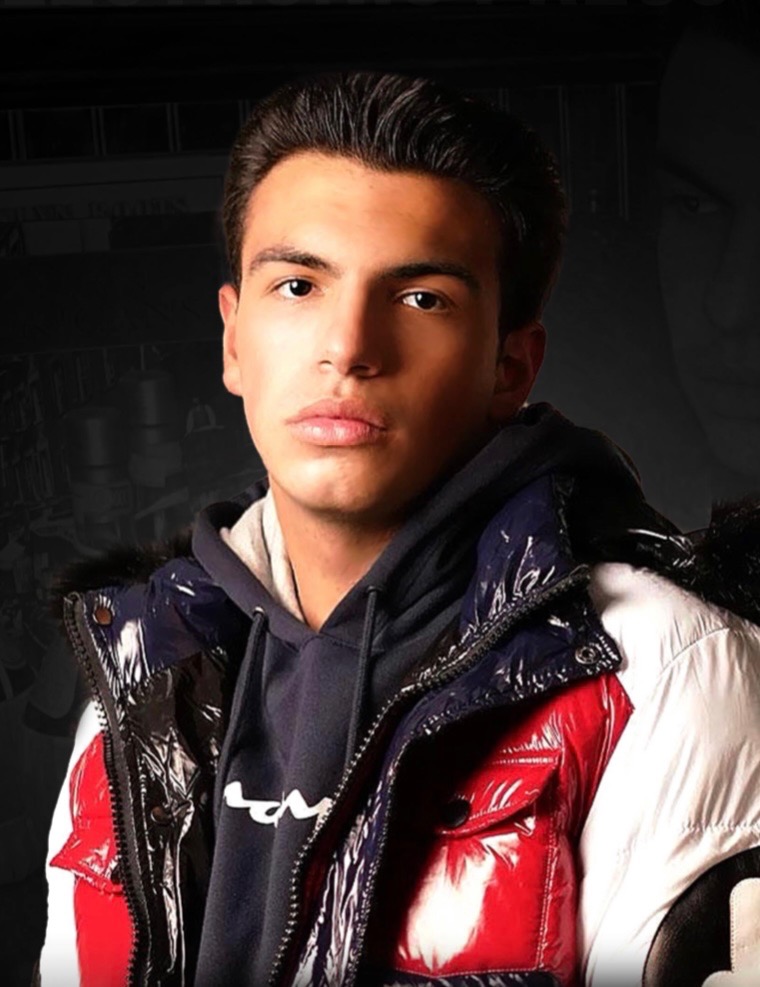 At only 17 years old, Lil Dee is already surpassing most rappers. Growing up in Coney Island, just a train ride away from the city Lil Dee got the perfect influence of both worlds. Like all the great rappers before him, Lil Dee studied the greats. Drawing influence from Big L, Biggie, but also local legends like D Chamberz, Uncle Murda and NEMS, who he credits for showing him the ropes when he was just getting started. Around 12 years old Lil Dee began taking rap seriously, giving himself the moniker Lil Dee which is derived from his real name Danny. Very early in his career he began rapping on legendary platforms like Statik Selektah's show off radio, Lyricist Lounge, getting advice from rap moguls like Talib Kweli and Benny The Butcher. These days Lil Dee can be found performing on stages, recording new music, and always perfecting his craft. Lil Dee has so much potential and his future looks very bright. If this is where he's at now, who knows where he may be in a few years. Music Xclusives tapped in with Lil Dee, we spoke about growing up in Coney, rapping in the street with Nems, and what the future holds. Stream his new song, Dream, and read what he had to say below!
How old are you?
I'm still 17. I turn 18 in November.
Are you still in school? 
Yeah, I'm graduating high school in a couple of weeks.
Where do you go to school right now? 
I go to Edward Murrow. It's where Joey Badass went. It's a dope environment. They have music tech programs in there and shit. It's all about the arts, so it's perfect for me.
When did you start taking your music seriously? 
I really started taking music seriously around like 11 to 12 years old. Growing up, my father used to play Nas, Big L, Biggie Smalls, all the real legendary New York pioneers of hip hop. When you love something you always want to be a part of it. So when I was younger and I would always hear the music and loved the music, I wanted to try it and I fell in love.
Why the name Lil Dee? 
My name is Danny and my dad's name is Daren. Our names both start with D. In my family if somebody is like smaller or taller, like older and younger and you have the same name or the same initial, you'll be little and big. It's an Italian thing. When it was time to choose a name that was the first thing that came to mind, and it just stuck.
What was it like growing up in Coney Island? 
It's dope. It's a really nice environment. Not the typical environment that people will grow up in. You're so close to the city, but you're in your own world. The community of Coney Island is so different than all the other communities. We have these surroundings and we have this community and everything is so close. Rap wise growing up in Coney Island was good because of Nems. Way before the Big Bong thing, Nems was a battle rapper and he was making music in Coney Island. Even before, me and him were cool. Having a guy like that to look up to as a rapper coming from your neighborhood is always good. 
Besides Nems, were there any other local artists you were looking up to from out there? 
You got people like D Chamberz, but Nems was always the one. Coney Island is more known for its basketball players, Lance Stephenson, Sebastian Telfair. Coney Island was known for its ballers but when it came to the rap scene, Nems was always the guy for me and for so many other people. When I was younger before I was taking it seriously, I went to buy a hat from him and I was like, "yo let me rap for you". When I rapped for him, we were in the middle of the street, he shut down the whole Mermaid avenue, made people get out of their cars, come out the barbershop just to listen to a little 11 year old kid spit. He's just a really good dude. He put me on my first show. He put me in contact with people on the radio. He put me in front of a lot of people. He's the reason a lot of the rappers that I became cool with and made connections with early on, knew who I was in the first place. Nems really built the foundation for me to build my whole entire career. He's such a good dude, the realist.
What was your first radio experience like? 
My first radio experience, Statik had me come up to Shade 45 when I was like 12/13. That was a dream come true. You see Sway In The Morning and all of these legendary rappers go up to Sway and show off and just do their thing. It was wild, being a young kid who has been a fan of the culture, to go to this Holy Grail place of hip hop and spit. Even before that, there was this thing called Cypher Circuit on Instagram. It wasn't crazy popular, but it was this community. A bunch of producers would come together and put together beats, and every week they would release a beat and people will have to go on Instagram and drop like 16 bar verses and the top ten of that week would get mentioned on the podcast. Then they come together and do these like big cyphers in Philadelphia. So that was my first time going on like podcasts and cyphers and stuff. At that time I was like 10/11 years old. Cypher Circuit was dope, but Statik and Shade 45 in general was the first time I ever went up and did some stuff.  
You're still the youngest artist to ever rap on Lyricist Lounge. That's a pretty big accomplishment. When did that happen? 
That happened the summer of 2019. I was 15 years old. The youngest to do it before me was Foxy Brown. I had her beat by a year. It was really dope, for starters I grew up listening to the Lyricist Lounge mixtape albums that they would put out from the shows. So just getting invited to do that was crazy. Then I got to talk in the basement with Benny the Butcher for like an hour. He sat with me and told me all kinds of advice and put me up on game on what to do and how to feel about certain things and moves to make, coming from him that was crazy. Also one of my favorite things from that day was Talib Kweli giving me my flowers, he told me the performance was beautiful keep doing what you're doing. This is right before Benny and Griselda exploded too. He told me that day, he was like if it don't happen for me right now, it's never going to happen. It was crazy to see two or three months later they started really gaining traction. The Lyricist Lounge is still to this day one of my favorite days of my life. Legendary shit.
How do you prepare yourself mentally for a freestyle? 
It's kind of second nature now, but it's just all about consistency and practice. If you practice a little bit every day and you push yourself every day to be better. Take a day to work on flow, or then take a day to work on lyrics. Every single time I did it I was pushing myself to be better and better. I still do that but now when I do it, it's second nature. So I wouldn't say there's like really a ritual or ever was a ritual. It was just more about the consistency behind it and making sure I put out quality. Studying the greats too, listening to guys like Mobb Deep and Wu-Tang, that also helped me push my pen and prepare me for rapping and freestyling. 
Did you read a lot of books when you were younger? I feel like in order to be a good at freestyling you should have a wide vocabulary.
I wasn't big on books, but I guess when I was a lot younger, I was really good at English class. Reading never was my thing, English class itself was just second nature for me. A lot of rappers, even rappers who flunked out of school, they'll always tell you that English was their favorite subject. Being able to bend words and work the phrases and the lines and punch lines, you have to have some sort of talent in the English language.
So what are you working on right now? Any new music coming out soon? I saw that you have a track coming out with Nems soon. 
I'm working on a couple of things. I'm working on a project. I feel like I've shown everybody that I can rap, and I've shown everybody my versatility. There's a lot of songs where I open up more about my personal life and the things that I've gone through. I'm working on that, i've got a lot of dope singles. I have a single coming out called Dream, produced by Jahlil Beats. That's going to be dope. I got a lot of features. I'm going to be on the new Kool G rap album. What's crazy is I'm on a song with Dres from Black Sheep and Afro over a J Dilla beat that was never used. That shit is nuts for me. I got stuff with Nems. That song with Nems is going to come out with a bunch of other songs that me and my guy Amadeus 360 the Beat King worked on. I got a lot of stuff, a lot of music, a lot of features. I've been really working on doing everything I can to further my craft and put out more of a catalog. It's definitely been working out well.
You did a show with my boy JuFu the other day.
What's wild about JuFu is. A long time ago JuFu and I, this was back when his rap name was Julian Fulian years and years ago, we did some youth music festival at some college in Queens, that's where we met. We were really young. This is before he blew up and before I even started getting any traction. We've just kept this relationship going throughout all that time and this got to be like five, six years now. He went to Murrow and they have this music festival at Murrow that they do every year. I had JuFu come out and he did his songs and it was dope. I was doing my song and he was up there hyping me up. He's such a good guy and a kind soul, he just uplifts everybody's energy. Such a good dude. 
Do you think you'll do any more shows this summer?
 I'll be doing Bushwick Collective. I do Bushwick every year. The crazy thing about Bushwick is when I was a lot younger around 12 years old, I wasn't on the show but they had this monster energy drink booth where MC Supernatural was freestyling about every single person that walked by. It was so dope. I told him I could spit, he handed me the mic and I rapped. The guy who runs the whole festival, Joe stopped and he saw me and the next year he put me on to start off the show. Every year it kind just grows and grows. Static Selektah brought me out right before Jah Rule went on my first year. Like, 6000 people at the time that was the biggest crowd I've ever performed for. More shows will appear throughout the summer. I definitely love performing. I feel like you can't really be an artist if you don't love performing and you don't love the the crowd and the acclaim from the crowd. I just love being on stage and sharing my music with the crowd and the fans and there's not a lot of things in this world that bring me joy like that. My biggest crowd ever was Radio City. Vanilla Ice brought me out. Slick Rick and Biz Markie were performing at that show too, so fortunately got to rap for Biz. That feeling when you look out into the crowd and the people are cheering and going crazy and just loving what you're doing, it shows you that you're doing something right, and it fuels your motivation and self esteem. It's the best.
How do you plan on spending your summer?
The studio man. That's like my whole life. I'm all about my craft, man. I'm ready for the studio, I'm excited for the shows, I'm excited to release music, I'm excited to go out and network. I'm excited about the fall, I'm excited about college. I'm going to LIU Brooklyn, they just opened up the Roc Nation program there and I'm literally majoring in producing beats it's a fucking dream. Definitely excited about college, 9th Wonder teaches there it's nuts. So I plan on just spending my summer working on my craft. Obviously I'm going to hit the beach, I'm gonna go out and party and spend time with family and friends. I'm excited to just keep working.