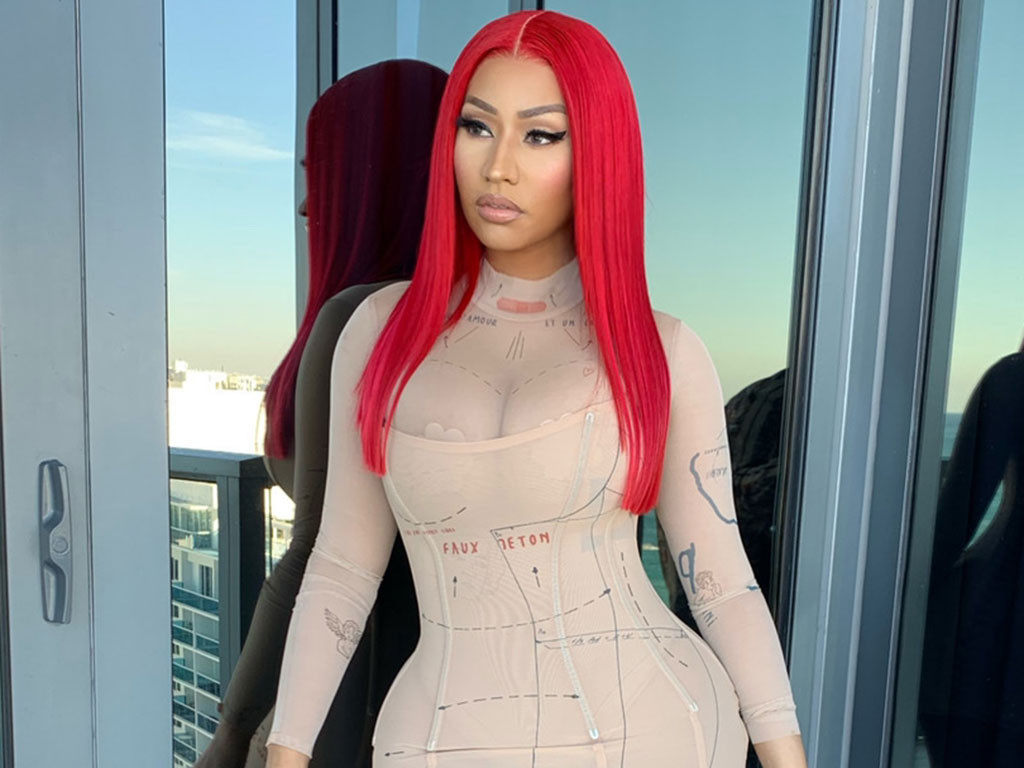 After a long two-year hiatus, the highly-anticipated Essence Festival of Culture is finally back.
The festival celebrating Black Joy kicked things into gear on Thursday and will run through Sunday with a star-studded line-up taking to the stage at Caesars Superdome in New Orleans.
This iconic event welcomes half a million people a year with this year's attendance being at an all time high since it is the first year back since the Covid-19 pandemic.
Essence Fest has been a space that promotes and encourages the black voices that help to move the culture forward. The event provides access to black businesses, health and financial wellness, and some of the biggest celebrities of our generations. This year was no different for the festival.
The Festival kicked off Friday with music and entertainments biggest stars Kevin Heart and Nicki Minaj headlining. This was Nicki's first-ever appearance on the ESSENCE stage, and she surely exceeded fans' expectations as they packed out New Orleans' Caesar's Superdome on Friday night.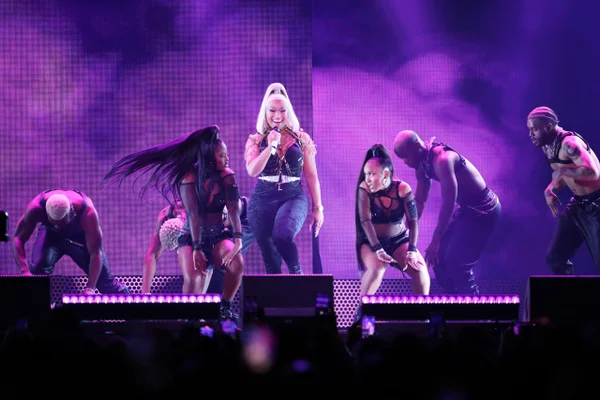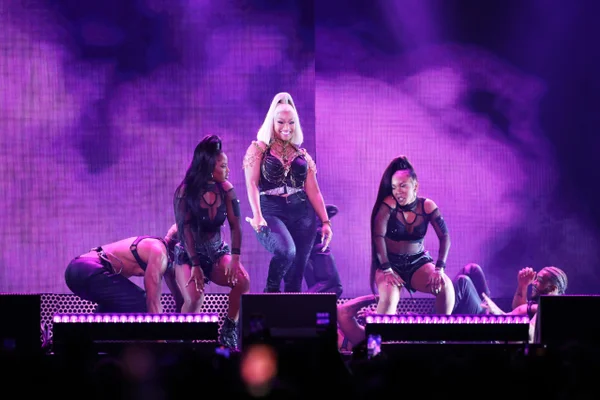 Nicki surprised the crowd with rare performances of other catalogue classics including "Beez in the Trap, " "Moment 4 Life," "Did It On Em," and more.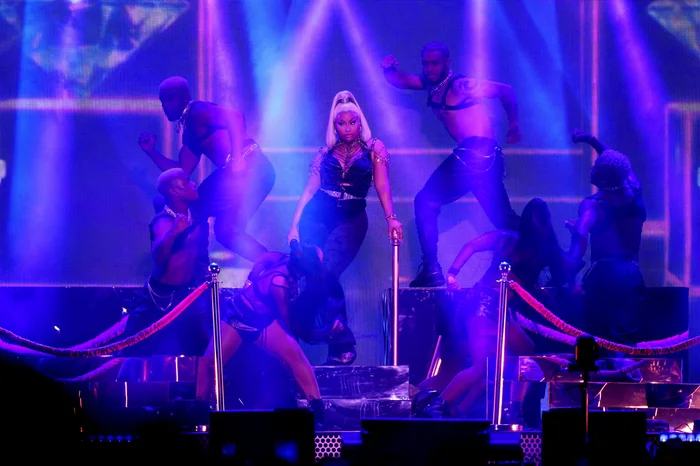 Nicki couldn't miss the opportunity to share the stage with her label leader and brother in chart domination, Lil Wayne. Together, they performed hits like "High School" and their most recent joint hit, "Seeing Green." Lil Wayne also performed some of his biggest hits in front of his hometown crowd.
The rapper played hits from her mixtape days including "Itty Bitty Piggy" which was one of the songs that caught the attention of the world. One iconic verse fans did'n't get to hear was the edgy, hard hitting verse "Monster." It seemed to be a little shade from the lyrical rapper when her DJ started to play it. "I'm monstered out", she told the crowd.
Fans suspected that this comes on the heels of Minaj's known rival Cardi B dropping her new single with one of the counterparts of Monster, Kanye West. Kanye and Nicki have always had a great working relationship until the Kanye's unreleased hit single "New Body" featuring Nicki was put on the shelf. Kanye was seen on an episode of Keeping Up With The Kardashians asking Nicki to appear on the song and created a buzz for fans who were left disappointed when he pulled the song. Though the song never hit streaming services it did make its way on to TikTok which gave fans a preview of Minaj's creative verse.
While fans who got to attend the event were elated to see the queen perform, fans who counted on being able to watch the concert from home were sadly disappointed. After weeks of promotion, Hulu failed to live stream Minaj's performance for the festival. Although the details aren't clear as to why, Nicki did not hesitate to let her fans know of some of the hiccups before coming out to perform.
Nicki Minaj did thank Essence Fest for having her later on Instagram.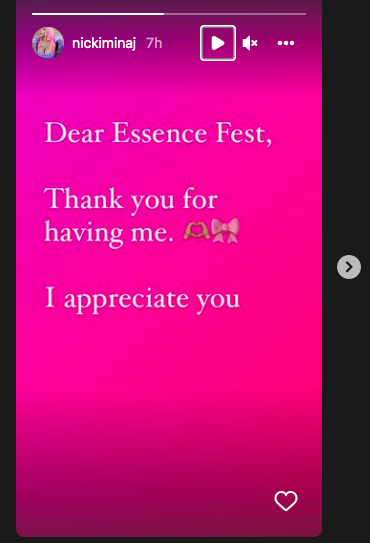 The night was an amazing night for all acts including fans getting a throwback segment with the legendary Wyclef Jean and Lauryn Hill.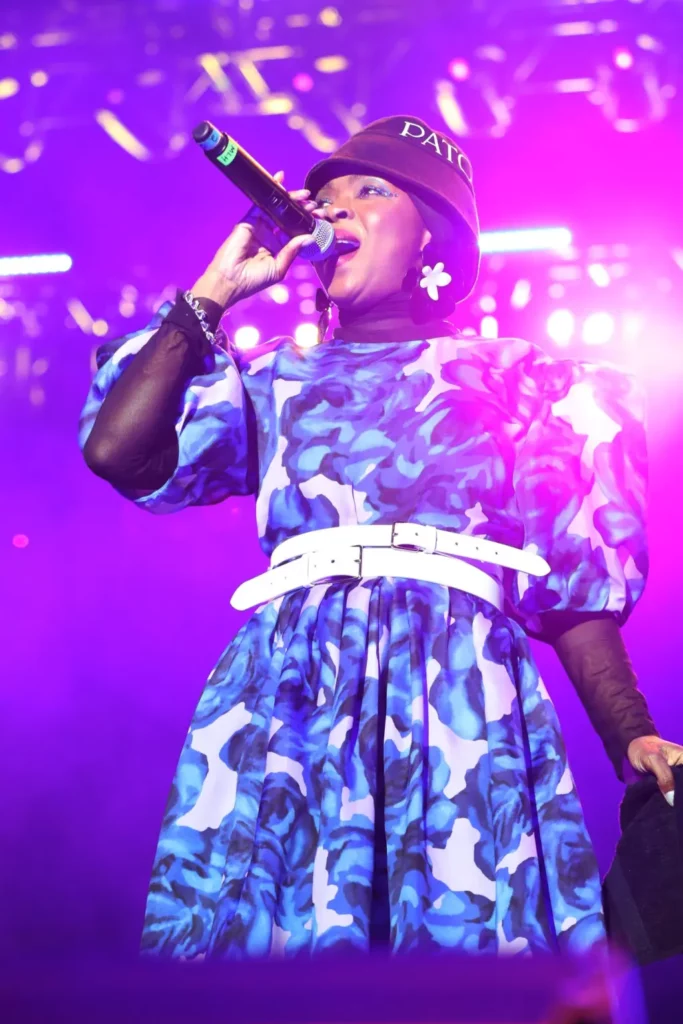 Fans also enjoyed a trip to Trinidad and Tobago with Caribbean acts Kes The Band and Machel Montano. Nas also shut the stage down taken us back to the 90's with his nostalgic set. The 2022 Essence Festival of Culture is just getting started and we cannot wait to see what is next.