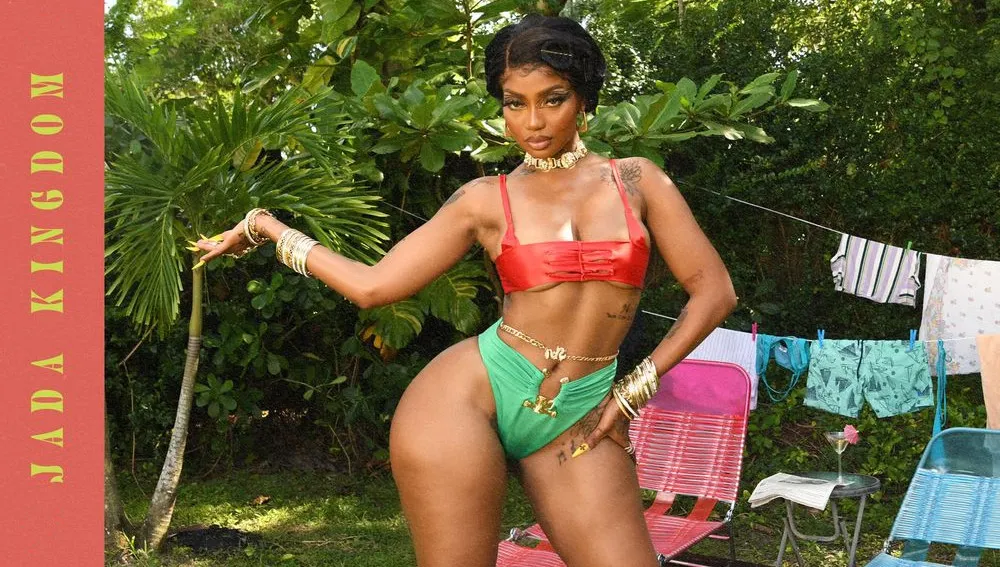 Jada Kingdom sets the tone in her latest Dancehall and R&B-infused EP 'New Motion'. The four-track project showcases the Dancehall artist in a new light. We see various sides to Jada and her music on this EP. Featured on her project are two of her most recent singles "Last Night" which tells the story of Jada's confusion after having a wild night and "Dickmatized" which focuses on Jada navigating a toxic relationship with a lover. Jada isn't only talking about love and trauma on this EP but is also providing us with a classic summer dancehall track that will definitely get us whining our waist at the function.
The song "Fling it Back" is one of the new songs on Jada's EP and it samples Leftside and Esco's "Tuck in U Belly" which is a classic Dancehall track that is still enjoyed by listeners today. The video which was released on the same day as the  'New Motion' EP on June 17th is definitely matching up to the song title "Fling It Back".  We see Jada and her friends partying in the video and having a grand time dancing their hearts out. The video for sure makes one want to go outside and enjoy a dancehall party this summer and most importantly fling it back! On Instagram, Jada revealed that the song was actually recorded two years ago and the video was shot a year ago, so who knows what else Jada has in the tuck for her fans.
The final track on Jada's project is "Next Time". We are seeing Jada's vulnerable side on this track as she talks about a past lover where it simply just didn't work out. She sings – "Don't be so surprised. It's what you decide. Just gwan, live yuh best life. We can try again ah next time. I'm still in your prime. Look on the brighter side. There's still a nеxt life. We can try again ah next timе." Jada is hopeful that maybe the two can work things out in the future but right now maybe just isn't the right time. 
Overall we see Jada tapping into love, trauma, and fun on this project making it extremely diverse and a great listen. The E-Syde Queen isn't done though, Jada took to Instagram just yesterday to say that she'll be releasing a new single "ESQ till death" on July 1st. This song is giving us a more raunchy and gritty Dancehall vibe based on the preview and fans are excited. We know Jada will continue to turn things up and make her mark in Dancehall as the unique artist she truly is.