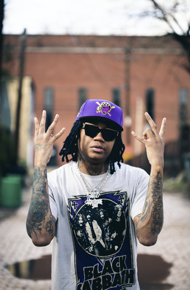 A trip to Chinatown and in an undercover mission, Taylor Gang's hottest new artist Fedd The God lays down the law alongside his ranger partner in his newest visual "Black Ranger."
Bringing forth the summer heat with his latest action packed visual, Wiz Khalifa's newest artist has been dropping music following the success of his 2021 EP's Sense of Urgency and Speed Racer. Set in a Chinese restaurant as the recording artist makes his calls, the "Black Ranger" visuals offer a glimpse into the rapper's magnetic presence and ability to execute his unfiltered bars while captivating his listeners.
The artist's latest music video follows the lyricist's previous focus tracks "Activated" and "Yea Yup" which both feature Grammy Award-nominated recording artist Wiz Khalifa. Music lovers can expect more from the Pittsburgh native as he plans to release more music this summer and fall. Check out "Black Ranger" available now on all streaming platforms.