Written by Terzel Ron
Posted on June 12, 2022 at 2:42 pm
Music Xclusives caught up with RJAE at the The Novo Theater during the nationwide Mr. Crawford tour with NoCap. The versatile New Orleans rapper and singer readies his new single with NBA Youngboy, who he is signed to, and prepares to drop his new single and music video "Like A Ghost" with NYC rapper Stunna Gambino later this summer. The 20-year-old artist spoke about blowing up at 13, working with mentor A Boogie Wit Da Hoodie, and explosive success with over 20 million streams and views to-date.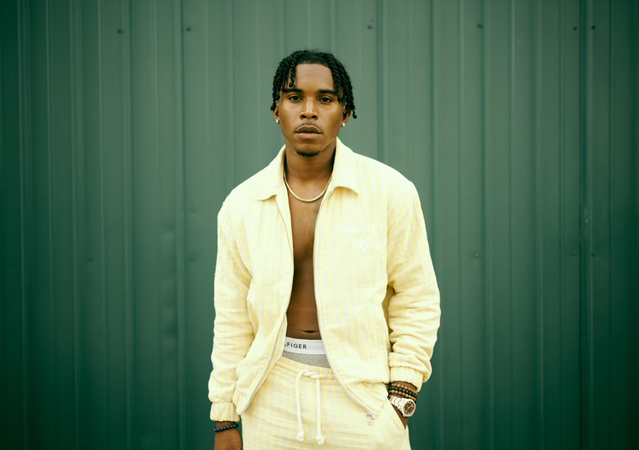 Tell me about growing up in New Orleans. What was your upbringing like?
I don't want to sound too cliche, but it's pretty much the same story. We didn't have too much growing up. For me specifically, music was my way out from the trauma, you know. From everything. So yeah, we made it through. 
What kinds of tools did you use to get you through the next day? Because I know growing up in the trenches, sometimes it's hard to even make it to the next day. 
Yeah, for sure. My mom, man. She did her best to keep us sheltered from the outside world, ands kept my head right man. She kept me in the books, studying the craft. She really got into music. Shoutout to moms. 
I know most of your songs are freestyles and that you started by doing skits on Instagram – rapping, singing, and more. You made your first record when you were 13, right?
Yeah, 13. 
So what was that transition like, from making songs fooling around to making real tracks? That's a huge difference. 
Yeah, but as a child, I had a plan, you know what I'm saying. I knew that those skits were eventually gonna take off. So I was definitely mentally prepared for the studio already, just as much as I was mentally prepared for this tour. On God. Manifestation is real. I try to preach that a lot. 
When I was doing my research for this interview, I noticed that that was something you said often. 'Manifestation is real. Tell me what manifestation means to you. 
It's crazy. I really feel like I just discovered it a few months ago. I really sat down and realized damn, I really spoke this shit into existence. Even when I didn't have the jewelry, I spoke on it. I saw this shit. 
Some people have to make a conscious decision, 'I'm gonna be positive today. I'm gonna be happy today.'
I'm not gonna lie, I never said it was easy. It was hard. I don't know, its just something about my job. How I really feel about this music. It just keeps me going. 
So when you were 13, you made your first song. And that shit was viral. It did like 2 million views. 
Yeah, that shit was crazy. It did 2 mill, and I was just entering high school. It was crazy but I was ready for it. I look back and think I should've done more with that record, actually. 
Why? It did really well. 
Yeah it did great but as a young artist, it's like you gotta strike right now. We did the record, I did what it did, and I just pushed it to the side because I was ready to do so many more great things in the industry. But I really appreciate all of the love I got for that. It jump started this whole thing. 
So now that you have more experience, what do you think you could've done better on that track? 
Like you said, just really drive that nail home. We did a lot of performances at the time and I didn't want to perform the song because I didn't want people to box me in to that one song. As far as the song itself, I done learned so much just being in this industry. Reflection is crazy. But it's great to see the growth from then to now. 
It's really important to look back at how far you've come. Because you were 13 years old, and now you're on tour in Los Angeles. Especially coming from New Orleans, that's huge. How often can you look back and said "I did it, and I'm still doing it. It's working?"
To be honest, not too often. I'm really hard on myself, and a lot of people in my circle say that to me. So every now and then I just gotta look back on it and take the time to be appreciative. Keep my head straight just looking at what's forward. 
That just tells me you have huge dreams. 
I really do. I have great things planned. 
What are some of those plans? Is it winning a Grammy?
Yes, definitely. That's the final goal for me, bringing my grandma to the Grammys. I'm the first person in my family to do something as massive as this. A lot of people in my family know it's big, but they still don't really know how big of an impact I'm making. But once I have my Grandma and family at the Grammys and they can see me nominated for something that's different. 
And that's coming really soon. You ever think that it just takes one song to get there?
Exactly. And that's why you never quit. For anybody out there, it only takes one song. So God willing man.
A lot of people do things one time, get the success and get used to it. How do you keep the pressure on to keep going after your dreams and not get too comfortable?
That was hard for me, transitioning and signing to a label, I'm not gonna lie. Cus you have to put the pressure on yourself. The bigger you get, the smaller your circle. So you gotta have people around you to motivate you. And I do a good job – the small circle I have around me keeps me motivated. 
Just tell me about that small circle. A lot of people in the trenches, they get success and then people around them don't know how to react because it's so new. When it comes to selecting people to help elevate your career, how do you do that?
For me, it wasn't hard because I've always been antisocial and independent. I always knew how to navigate. My team got me here. Some of the people are my family, so I've been with them forever. I've been locked in with Fee Banks for seven years now. That's my real mentor. 
The very first song I did, I recorded in the closet. Somebody came to me and said 'I got a studio, come and lay down this record that was going crazy in the city.' But my first project, that's when Fee came and picked me up from the studio. 
Are there any artists from the city you look to like 'I wanna do some of that shit.' 
Wayne. Forreal. The hold he got on the culture is crazy. You'll see it forever. It will never die. 
I know you're signed to Youngboy, obviously he's going crazy. But are there any other artists from the city that you go 'they really doing their thing?'
Yeah, my boy Bino. Lil Vibe is a good one too. OBG Bang Bang. There's a lot of good ones man. Meechy, Herm. The whole team. 
I know you rocked with Lauryn Hill's music a lot growing up. Any up and coming female artists that you think are really making waves?
Snoh Aalegra. I don't know if you would say she's 'coming up' but I rock with her a lot. I actually got to meet her. She's a cool artist man I would definitely love to work with her. 
And that's the thing in your music you're very versatile. You sing, you rap, and you're a monster at both of them. I saw you do a freestyle for like five minutes straight. Since you can switch between both, who are the melodic people you would work with and rappers?
As far as melodic, I fuck with Roddy Ricch heavy. But I don't really have a list of people because I like to make it more natural. I like to see if the vibe is good. You know I rock with Benny the Butcher a lot. He's crazy. 
Yeah he's from upstate New York. And speaking of New York, talk to me about linking up with A Boogie. 
Through Fee [Banks]. Somebody put me on to his music because I wasn't hip to it. I reached out to him, he reached back out. Managers helped us link and we've been locked in ever since. He was playing me records that wasn't even out yet. And we built a strong ass relationship. Without a doubt he's definitely my favorite artist. When people ask me who's your top five sometimes I even forget to say this nigga because he's so undeniable. Most definitely, that's my guy. 
Why didn't you sign to A Boogie? When huge opportunities present themselves, a lot of people would jump to it and it's hard to say no. 
I don't know what happened with that man. Through the label it didn't go as planned. But I'm happy for how things did go. Like I said, we're still tight like family. Everything worked out for the better, it's good. 
From A Boogie to Youngboy is a big style difference. But when an artist that's from where you're from cosigns you, that hits different. What was it like meeting Youngboy and signing to his label?
It's a whole transition. You gotta think, when I'm with A Boogie we do a lot of melodic type records. We talking about YB, his raps are more in your face, you know what I'm saying. So musically, I had to adjust but it was a good adjustment because he brought me back to my roots. 
Do you have any pre-show rituals that you do to get in the zone?
Yes. I do mad shit nigga. I do vocal practices, I eat like three or four Halls. I don't eat for the whole day or eat very little because I like to stay light. It gives me more energy. Its like intermittent fasting. I stretch, I drink my tea, water. 
What kind of tea?
I'm either doing chamomile, ginger, throat coat. And I pray and meditate. I do all this before stage, swear to God. Every show. It goes exactly like that for me to have a good show. 
What is your favorite part and least favorite part about the music industry?
My favorite part is jus creating. Making something and just seeing ideas come together. My least favorite thing would just be the politics. There's certain guys I just can't work with, and some of these guys might have been my favorite artist, but it is what it is. 
In this industry, there's a lot of importance on social media and comparison. How do you keep your mental health on point?
It's so big because there's so many you gotta keep up with. And like I said I'm antisocial. When people say Instagram and try to keep up with it and flex, it's a lot. I just try to just me myself as much as possible. I am a human being at the end of the day. And just meditate. Mental health is big.