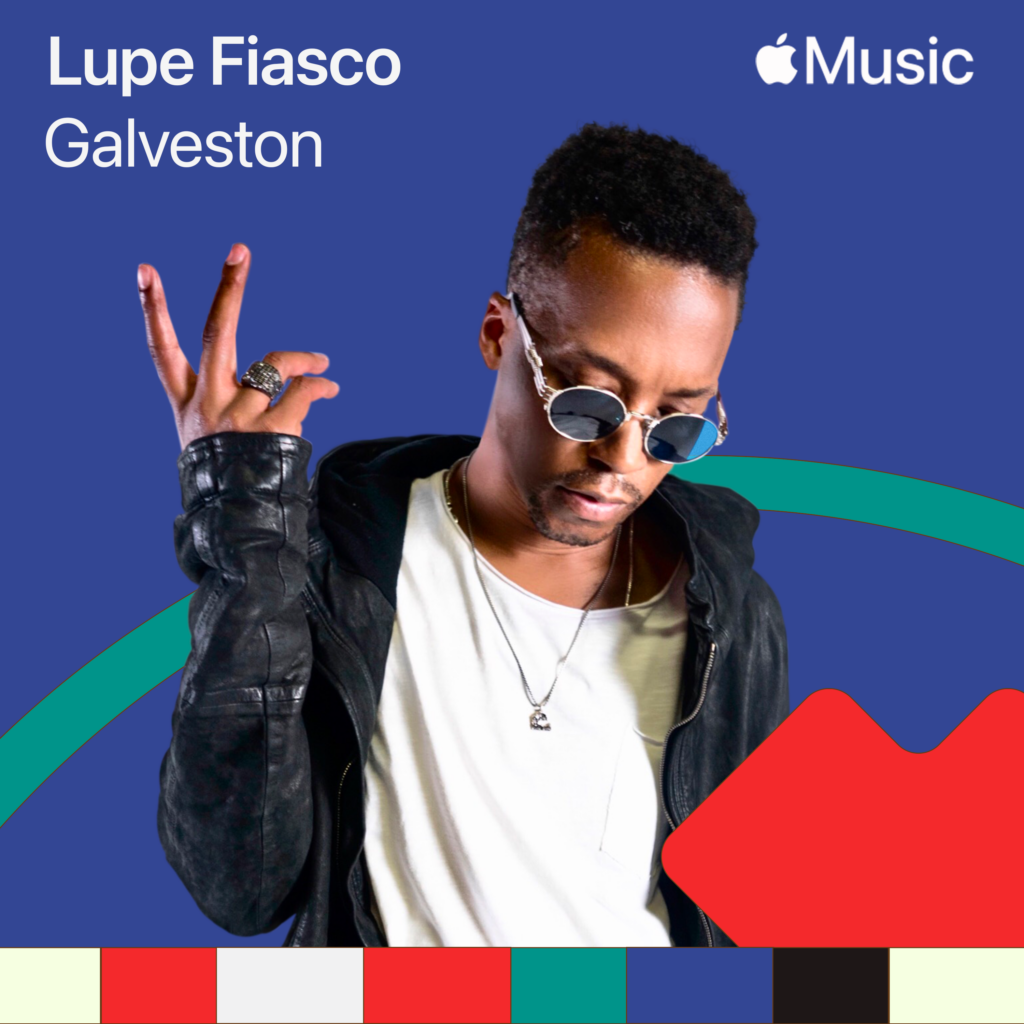 Lupe Fiasco seeks fresh perspectives on the state of the culture with his probing pen. Exploring the pain that dwells behind a celebratory holiday, Lupe shares "Galveston," a powerful new song. Commissioned by Apple Music as part of its 'Juneteenth 2022: Freedom Songs' collection, the song takes its name from the holiday's East Texas origins–though Abraham Lincoln issued the Emancipation Proclamation in 1863, the emancipation didn't fully take effect in Texas until the Union Army reached Galveston on June 19th, 1865. The new song pays tribute to Texas and its role in Juneteenth, lyrically and sonically, with occasional drops into the chopped-n-screwed delivery common in Houston hip-hop.
Rhyming over a haunting mixture of ethereal vocals and eerily distorted keyboards, part of a beat that Lupe produced himself, the Chicago native emphasizes the importance of rejoicing in progress, while ensuring that no one forgets the threat of white supremacy that has persisted even as slavery has not: "But you can't rest so peaceful/Indentured servancy is gone be shiny and deceitful, protect yo people/And that finesse there is so lethal/Jim Crow bust like desert eagles/Gone come back round like extra sequels/And it's all gone be legal," he warns. Despite the ever-present threat, Lupe ends on a note of catharsis, framing Juneteenth celebrations as a way for the Black community to thumb their nose at their oppressors and flaunt their hard-fought freedom: "GALVESTON, birthplace, Ghost Town/Day of the dead, prayers are said/In the form of a hoedown/Fish fry till they golden brown/Triple K's Brown Gold vs White Sheets/Poltergeist get exorcised on the 19th." "Galveston" is exclusively available to stream on Apple Music.
Apple Music launched 'Juneteenth 2022: Freedom Songs', a specially-curated collection of music to celebrate and honor Juneteenth. Available to stream exclusively on Apple Music, the second annual compilation features an eclectic mix of originals and covers to celebrate the holiday. Artists featured on 'Juneteenth 2022: Freedom Songs' were commissioned by Apple Music's expert music curators to reflect the spirit of Juneteenth through the majesty of music. Including over 16 artists across an array of genres, including Hip-Hop, Gospel, Latin, Jazz, R&B, Country and more, the collection aims to uncover the complexity of the Black experience against the backdrop of the historical touchpoint of Juneteenth — from joy to pain and hope to rumination.
"Galveston" arrives in the run up to DRILL MUSIC IN ZION, Lupe's next album, which arrives June 24th via 1st & 15th/Thirty Tigers.. The product of a burst of thoughtful spontaneity, Lupe created the new album over a short period, diving into a folder of beats sent by his longtime producer Soundtrakk and emerging with a fully-realized album in just three days.
Listen here.
Source: Audible Treats