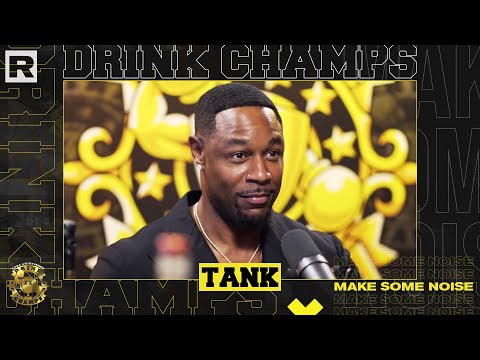 Tank has sustained a career in the music game that most parties dream of. From heavy hit singles of his own to riding for some of the best in the game, Tank's legendary Status can't be denied.
Recently the singer, sit down with popular podcast Drink Champs to discuss his career, the highlights and the dark times, and his perseverance through it all.

Here are some of the highlights from the interview:

Tank was co-signed to the late R&B singer Aaliyah: 
Like many others in the music industry, all it takes is that one big cosine for people to recognize your talent. For tank his cosigning came from R&B singer Aaliyah. And a drink champs interview tank discussed how he got his career start from being a back up vocalist for both Ginuwine and Aaliyah. Tank stated:
Aaliyah told me 'you're ready, you're ready for this s*it.

He continued:
Nothing validates you more than a woman. When Aaliyah says 'you're that guy,' that makes all the difference in the world. Nothing trumps that. And when she said that to me, I took it, and I ran with it. I said Aaliyah said it, so can't none of y'all f*ck with me. I don't care what none of y'all say, Aaliyah said I'm him
Tank gave Kelly Rowland her flowers:
While many have come to know Destiny's Child as one of the most critically acclaimed girl groups of all time, a lot of their recognition came from the super talented entertainer Beyoncé Knowles. However, on the Drink Champs interview Tank explained that it was Kelly Rowland whose star talent really blew him away.
Tank said:
[And] I'm sitting in the studio like, 'Do y'all hear these harmonies, do you hear her voice, do you hear the texture, do you hear her change in dynamic? Are y'all hearing this?'" "I never knew! 'Cause I gave all the credit to Beyoncé. That's how the business of Destiny's Child was set up, to adore Beyoncé.

Tank proceeded with further details on his discovery, stating that it wasn't until he started working with Rowland that he realized her star talent.
He said: 
And then I finally got in the ring with Kelly Rowland and realized that while Beyoncé is in the booth, there's a Kelly Rowland saying 'Ooh try this. Ooh and this note is crazy.' And we never knew. She's amazing.
Tank spoke about his support for the LBGT community: It's no secret that the music industry and the black community have not always shown their support or basic respect for the LGBT community, but Tank is showing he isn't one of those artists that just stands by. The singer, 46, was asked why he received backlash from fans for performing at a Black gay pride event in D.C in 2017 He stated,
Ima speak in terms of the Black community. There is a stigma. There's a hate that goes along with being gay. Oftentimes in our language… too even degrade a person, to the lowest we can degrade 'em, we use gay as the adjective, and so, that carries on even into entertainment.

The former TGT member talked about how he originally wanted to perform at the event because he heard how much they were paying. He says once he got on the stage he realized that people only wanted to be shown the same love and respect for being human.
It was at that moment that they understood, like, I have no judgment for you and your lifestyle. I only have love for you as a human being. You also are the reason why I'm able to feed my family. So I love you for that and I'm gon' entertain, the same way I would entertain on any stage whether it's a bunch of girls in the front row or a bunch of guys in the front row.


Tank made it clear that he knows who he is and is secure in himself.
I'm secure in my shit. I don't feel like I'm gonna walk into a gay room and all of a sudden become gay. When the backlash comes and people are saying oh "he must be gay," I can laugh at that cause that's not the worst thing you can call me cause I don't see it as that."
Watch the full interview below.