Looks like R.Kelly has made a new pal in the big house. None other than accused Brooklyn subway shooter Frank James. James who is awaiting trial following the April 12th mass shooting of a Brooklyn N train has become well acquainted with Kelly who is currently awaiting sentencing for sex trafficking. The NY Daily News have reported that various sources have spilled on a budding bromance between the two. The two are being held in Brooklyn at the Metropolitan Detention Center. "Both do get along. They actually sit together and eat together," said one source.
"They talk about TV shows. They go out to rec together. They're buds," spilled another source familiar with the two. The two men are housed in a unit that also houses government cooperators, since both are high-risk inmates. James was arrested for the April 12 shooting aboard a Manhattan-bound N train. He allegedly set off a smoke canister and fired nearly three dozen shots at straphangers on the crowded morning train as it approached the 36th Street station just 12 minutes away from the Jail he is currently locked up at. Kelly was found guilty and convicted after a six-week trial in Brooklyn Federal Court in 2021 of running a decades-long sex abuse operation. Kelly targeted boys, young men, girls and young women, according to witness testimony.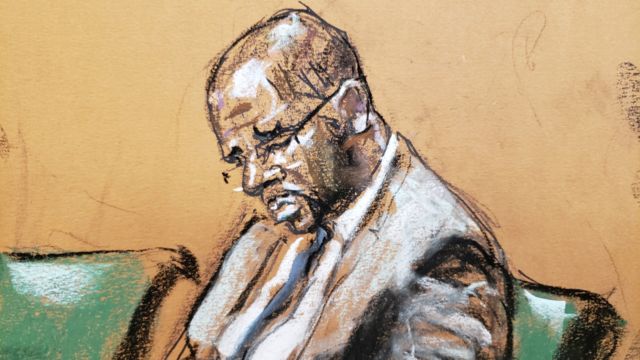 Insider sources also shared that the once highly acclaimed singer has used his vocal gift to soothe fellow inmates and make time behind bars a bit more tolerable. Kelly recently broke into an Capella version of his hit "I Believe I Can Fly" that was so powerful that even correction officers were left stunned.
"Mr. Kelly is not in control of who he is housed with," stated Jennifer Bonjean, Kelly's lawyer. "A friend is someone you voluntarily hang out with." James' lawyer declined to speak on the friendship between James and Kelly. James was indicted on federal terrorism charges last Friday meanwhile R.Kelly faces life in prison when he is sentenced June 15.