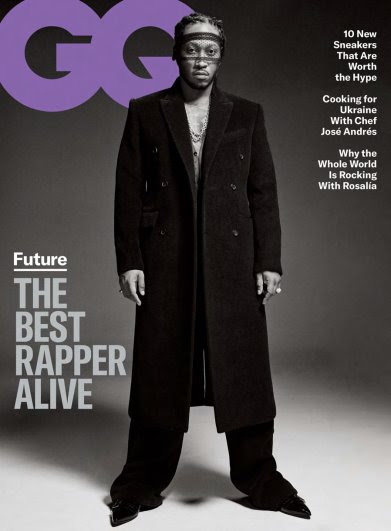 "Few artists are as prolific. As widely imitated. As consistently excellent. Which is why it's finally time to declare what's been true for a while now… Future is the best rapper alive." – GQ

Elliot Wilson
Today it was revealed that Grammy award-winning, Diamond records certified rapper Future will be the face of the May cover of GQ magazine. The feature which includes an interview conducted by Elliot Wilson discusses his thoughts on why he feels that future is the best rapper alive.
Fans of the "Commas" rapper were thrilled to hear that his latest project will be dropping next week on April 29th. As part of the GQ story some of the rapper's friends got to ask him some interesting questions. DJ Khaled inquired about what the "Future" is looking like for the "Honest" artist. "Billions, that's how it's looking," he responded. "Office buildings, real estate companies, publishing companies, just success all around, whatever I put my mind to." Other friends of the Atlanta native included Rapper Jack Harlow and Julia Fox.
Check out Future on the Cover of GQ when it hits new stands next month, for now check out his hilarious star studded Q&A below.