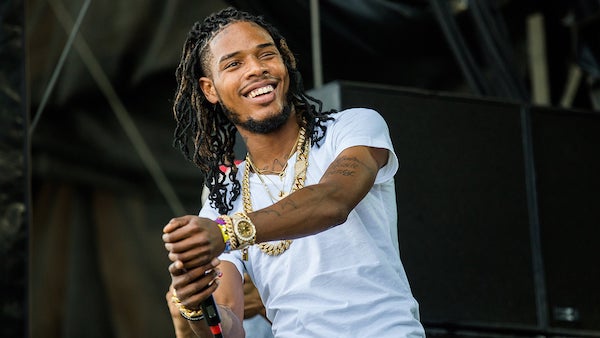 It seems like Fetty Wap cannot catch a break. Between the passing of his 4-year-old daughter back in June of this year, losing his brother the year prior, his tumultuous and public affairs he had on his wife – to now being indicted on federal drug charges by the FBI.
Fetty Wap, whose real name is Willie Junior Maxwell II, was apprehended on Thursday (October 28) night at Citi Field in Queens, New York while about to perform at the Rolling Loud Music Festival. 
Alongside the rapper, about a half-dozen people were also arrested and charged for in the case. Among those defendants, were identified as: Anthony Cyntje (23), Brian Sullivan (26), Kavaughn Wiggins (26), Robert Leonardi (26), and Anthony Leonardi (47). 
The group of six men are accused of running a milti-million-dollar bi-coastal drug organization. According to court documentations, the alleged organization operated from June 2019 through June of 2020. Apparently, the six defendants acquired narcotics from the West Coast, utilizing federal postal services to transport the contraband to their home base in Suffolk County. The charges includes; conspiring to sell and distribute narcotics, drug possession, and firearms. 
According to the prosecutors, the alleged defendants transported, distributed, and sold more than 100 kilograms of a mixture of heroin, cocaine, marijuana, and fentanyl. As search warrants progressed, authorities amassed about $1.5 million in cash, 16 kilograms of cocaine, 2 kilograms of heroin, fentanyl pills, 2 handguns, 1 rifle, 1 pistol, and ammunition. 
Maxwell's lawyer, Navaaro W. Gray made a statement at a press conference earlier Friday (October 29th), stating his client is innocent. Gray filed a not guilty plea for the famed rapper followed by making his statement: "We pray that this is all a big misunderstanding, so we can clear things up as soon as possible." It is unsure about the status of Fetty's fate – if he was granted or denied bail.
According to news reports, Brian Sullivan of Lake Grove, New York – was apprehended in September for the alleged crimes followed by his co-conspirators the following month. 
Considering the nature of this case, if convicted, everyone can face up to a maximum life sentence. For Fetty, means a minimum of a decade. 
Story still developing.