It's getting very wild in these Hip Hop streets as Tory Lanez is allegedly hitting more than the studio in the latest allegation against him. Back in July 2020, Lanez was involved in an altercation involving "Hot Girl Summer" rapper Megan The Stallion, where Lanez was charged  with carrying a concealed weapon in his vehicle and allegedly shot the Houston rapper in the foot, leaving her wounded. He plead not guilty back in November and if convicted, could face up to 22 years and 8 months for the crime.
Looks like Tory can't catch a break as TMZ reported yesterday that the Canadian rapper allegedly attacked Love & Hip Hop star Prince, aka Papii Rose, around 4 AM last Monday when he was approached and struck on the left side of his face outside club Vendome in South Beach.
The Love & Hip Hop: Miami star shared a photo of his face after the alleged attack on social media alongside with a video, showing how his face swelled up after the alleged attack.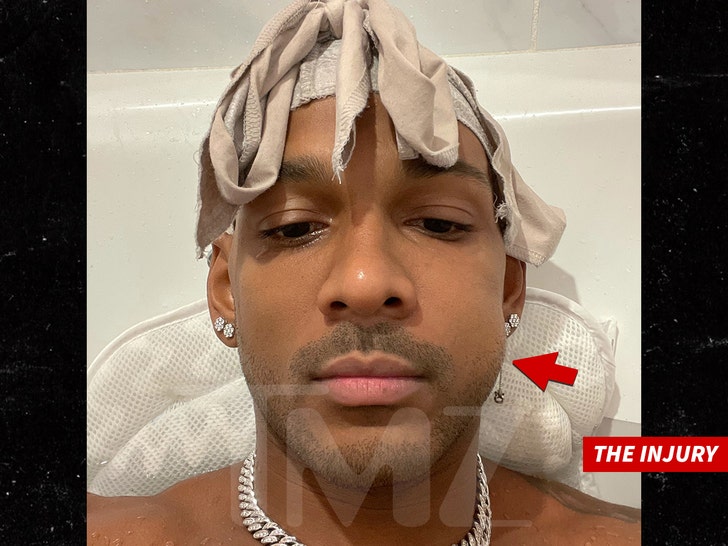 According to a rep from Prince's camp, they informed TMZ that Prince was hanging out with NFL star Malcolm Butler and noticed a few men were staring at them. The club definitely made it known both men were in the spot that night, with DJs and hosts shouting them out on the microphone throughout the evening.
Apparently, as Butler left the section with Prince alone, Tory's entourage saw this as an opening to make their way to Prince's section and allegedly threw a punch at the reality star, leaving him with a headache and swollen mouth.
Now there's always two sides to every story as a rep from Tory's team told TMZ that the "Daystar" rapper was nowhere near Prince in the club at the time he claimed the incident occurred, with no footage or witnesses to back up Prince's claims.
This isn't the first time these two had issues as an incident occurred back in 2019, where Lanez punched Prince at LIV Miami, which Prince still has a claim filed for. Looks like the Love & Hip Hop star is considering filing a new claim for this incident.
The battle continues as The Neighborhood Talk exclusively reported this afternoon that Lanez' camp has released a statement about the situation, claiming Prince is "obsessed" with the "LUV" rapper:
"This is completely false. This same individual, obsessed with my client, has been trying to attach his name to Tory Lanez for years. If you look and see previous reports, he has attempted to sue Tory and has lost. Tory was no where near this individual the night in question. No witnesses or camera can corroborate this fabricated tale,"
We'll make sure to keep you posted as this story continues to unfold.