Written by Terzel Ron
Posted on November 1, 2022 at 12:27 pm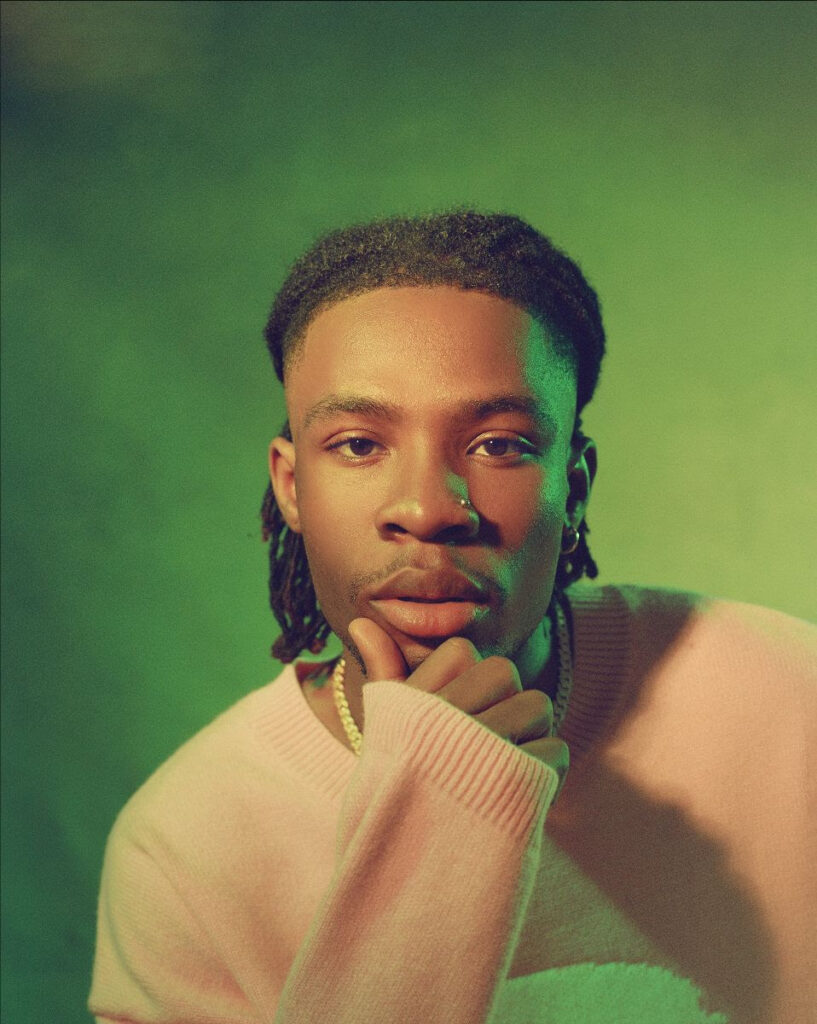 With over 2 billion streams of his music, Joeboy is one of the most successful African recording artists today. Bursting on the scene in 2019 with afropop smashes "Baby" and "Beginning," he released his critically-acclaimed debut album, Somewhere Beauty & Magic, in February 2021. 
His run of hits continued with "Sip (Alcohol)," which racked up over 400 million streams in just over a year, and "Contour," which was recently named BET Soul's "Vibe of the Week." Joeboy was one of two African artists named this summer to YouTube's Foundry Class Of 2022, which boasts Rosalia, Dua Lipa and Tems as alumni.
Recently, the Nigerian superstar has shared the official video for his latest single, the dancehall-inspired afrobeats banger "Likkle Riddim." The single is set to appear on Joeboy's forthcoming sophomore album Pon Deck, coming in early 2023. The track combines Joeboy's patois-inflected lyrics and soulful production from Nigerian beatmaker P.Priime (Olamide, Wizkid) for an all-out bashment party banger. 
Terzel Ron sat down with Joeboy on behalf of Music Xclusives to chat through everything from making covers as a college student, signing to one of the biggest artists in the world in Mr. Eazi, manifestation, and even jollof rice.
Where are you right now?
Lagos, Nigeria.
You were born in Lagos, right? What brings you back?
Yes. Just around, making music, doing media promo and stuff for my latest release. 
First thing I want to ask you, and I think I know what you're going to say, but I asked Mr. Eazi this question and he had his own answer – I want to know, Nigerian or Ghanian jollof rice?
That's a tough one. The Nigerians are particular on party jollof rice. The Ghanian jollof rice is nice, but there's a difference between homemade jollof and party jollof. Party jollof is special. It's just different – they usually serve it at weddings or parties and stuff like that. 
You've been promoting your new single, "Likkle Riddim." Is that what brings you over to Lagos right now?
Yes, normally I stay in Lagos but I've been touring a lot, so I've never actually been around. This is actually my first time dropping music while I've been around. People are loving it – it's different from what I would normally do. The video drops in a couple of days. 
When I interviewed Mr. Eazi, he had nothing but great things to say about you over and over. Speaking of him, let's go back to the early days for a bit to see how everything came together. It seems like a storybook tale – you meet one of your inspirations and all of your dreams start coming true. What was it like to receive that DM from him for the first time?
That's like my big brother. I thought it was dreaming or something, because when my friends called me they told me 'yo, Mr. Eazi commented on your video.' I thought it was a prank, but I was online at that point. They were like, 'I saw this comment from his verified Instagram account.' I said 'are you sure? I know when you were playing games with me.'
Wow. And then you checked your messages, and you saw a DM from him at the same time? 
Yes. He commented. I was trying to think of a message to send him in his DM while I was like, I got a message from him. He asked for my personal number. A few days before he reached out, I actually posted a picture of Mr. Eazi and Whisky. Two days after, he's complimenting my work. And that's just like a dream, to be honest. 
Well, that makes me believe. Do you believe in manifestation at all? 
Yes, I definitely do. Because I came to realize that everything that I think about actually happens. It will take a bit of time, take longer than I expect, but usually happens. I really believe in manifestation. I think those were like the crucial moments when I started really actively practicing my vision. So I started reading books and stuff about it. I just kept saying good things. I didn't have any money, I didn't have any connections. I just always visualized myself doing what I love. I am thankful to God.
Mr. Eazi then gave you the option to either take $5,000 or to make a song with him. It was a pretty tough decision for you. I know that you mentioned you only had about $50 in your account at the time. 
Yes, I had about $50 in my account. But I realized that if I worked with him instead of taking the money there was always a chance of working with him again. So I thought, 'okay. What if I don't take this money?' And I just said I'll bet on myself and I'm thankful that I did. Here we are, continent by continent.
I mean, how tempting was it to take $50k though? Because you're in college at this point, and you know every college student across the world is broke. 
It was really tempting, but I just knew that I was making the right choice regardless of anything.
You kind of had to push for him to be in the video in addition to being in the song with you. Is that correct?
Yeah, because his offer, it was like, 'do you want $5,000, or do you want to make a song and I'll shoot the video for you?' He also offered to help with promotion. So I was like, 'okay, I'd rather shoot the video and promote it.' And I told him I really like to have him featured on my song. I sent a bunch of songs to him and then finally found one that he likes. Like, he didn't tell me that he liked the song, he just sent me the song that he liked the most. So that really helped me into the industry. Then after that I dropped my first smash. 
After that came out, did a bunch of doors start opening for you? 
Yeah, a lot of doors opened and I started connecting with a lot more people in the industry. So I had some form of attention already. Things just picked up from there. 
Did you have to leave school at that point because you got too hot?
Everything happened at the right time. I was almost done with school already, so it was perfect timing. When Mr. Eazi came through my Instagram, he said the cover was fire, all of that.
But it was a cover, right? It was a cover of Ed Sheeran's "Shape of You." It wasn't an original song? 
The idea was to gain an audience at that point. So maybe you're on to a website or see somewhere and say, 'okay, there's a big song I already love.' You might want to listen to it, and it's really nice. Then you know where I am and can follow me to see what I'm doing. Then, I dropped my first single. We put it up and people were loving it. I think that's why I got my first real fan base for my original songs.
So that was your strategy, to blow up? Was it like an actual strategy that you had, to say 'I'm going to make a cover and then drop singles.' 
Yeah. And my family, they were excited. My family is a music loving family, so they understand that if you are chasing your dreams, you're doing something productive, and you can take care of yourself, go ahead. My mom just made me finish school. Yeah. So they were supportive. I think they found out around 2014. 
Did they ever try to push you into a certain career path or a certain career field? I remember even after I was just, like, on the come up, but I was getting some information and some attention, and then my dad used to send my TV and stuff to his friends around.
My son, he does a job around, so he always encouraged me to walk in the office and stuff like that. But I really do know making music, and thankfully, things picked up before. 
Now you're 25, is that correct?
Yes. This is all about five years ago. I mean, 
Do you ever get a chance to just look back at the last few years and just think about how much things have changed? Now, you're actually one of the biggest artists in the world.
When I finished. Right now. Now I have over 2 billion streams. That's crazy. I remember when I said when I had a thousand, I was so happy about that.
I should ask, too. When you made that "Shape of You" cover, was it blowing up on Instagram? Was it gaining steam? 
It was, yeah. Just during COVID. I wasn't getting, like, big money, but I was getting paid something. I would actually just show up and perform a cover of a popular song and stuff to get money. People knew the songs. I was in university at that point, while I was in class people would ask me 'dude, what's up? You made that cover, right?' 
In this music journey, when did you finally become financially stable on your own to finally say, 'okay, I can really make a living from music?'
I think early 2019. I wasn't taking any money from my parents and stuff like that. About a year and a half into all of this.
You just kicked off your first major tour this year in the United States. What was it like to tour in the United States?
My first time was fun. Americans love to party, so it was, like, an amazing time. But it was also hectic because I was traveling, like, by playing in. America is like a really big country, so boy, I enjoyed it. It was really fun. I went to New York, Los Angeles. I did Chicago. I went to Washington. I did Colorado and Denver. 
What are the things that keep you grounded at this point? 
The fact that, like, a long way ahead for me. I know that there's so much greatness I could achieve now. Right now, I'm just working. I'm trying to be one of the most known artists in the world, and I know that. But I stay consistent, and I always aspire to better my craft and my music and, like, just everything that I do. So that kind of keeps me grounded. But I know I'm not stopping. I don't intend to stop anytime soon. I want to be, like, dominant for more than ten years. I still want to be really around 10-15 years from now. I just want to be one of those people that last generations.
Who are your inspirations at this point? The people that you look to like, 'hey, I want to have a career similar to this.'
Yeah. So right now, the Weekend, and there's this artist from Belgium. His name is Stromae. I'm one of his biggest fans possible. And of course, we all love Drake. Those are some of the people that inspire me right now. I need to make sure that I send Instagram DMs a lot in order to network.
Is there any pre-show ritual that you have before you perform?
Yeah, so I have my vitamin shots. My energy is high. I just make sure that I'm in a good one. Yeah. You do any sort of vocal warm ups or anything like that, or you got it. I do every night by sleep. I try to hit some notes and stuff like that here and just make sure my voice is ready for their head.
For an up and coming artist that looks up to you, you're the biggest inspiration in the world. What would you say to them? Someone who is also making music, just trying to find their way.
I'd say don't stop being consistent. Be yourself. Don't follow trends. Trends can get you hot, but not forever. To actually stand the contest of time, don't follow trends. Focus on making music that is true and original to you. Remember, stay consistent and don't get lost in the high. Never get lost in the hive. That's one thing when you never get lost in high. Keep on working on patching yourself. Like, even if you have, like, a particular feeling, trust your instinct. 
Whenever we're young, we dream about life long term. How close would you say you are to your life goals? Like we mentioned, you're one of the biggest artists in the world already at such a young age.
I keep getting way more blessings than I expect. I'm thankful. And right now, I just focus on being a better person. Like, I focus on being a better version of myself. And I know that everything is going to fall into place. So I no longer like, place expectations. I just like being myself, but I'm doing way better than I expected. Actually, like, ten years back, I didn't know I was going to be this big. Thanks to God. I just want to be huge like the Weekend, like Drake. 
Stream Joeboy's "Likkle Riddim" below.