Written by Terzel Ron
Posted on June 17, 2022 at 3:10 pm
Rising Florida rapper and Alamo Records signee, Trapland Pat has been on quite a run. The rising artist has released several songs and accompanying visuals with millions of views and has no intentions of slowing down. 
2021 was a meteoric year for Pat, heralded by his single "Big Business." With his hyper-melodic delivery and floating musicality, "Big Business" highlighted Pat's one-of-a-kind charisma, generating over 5 million streams to date and ranking at #18 on POW's Best Rap Songs of 2021. With the release of his Trapnificent tape, he looks forward to making an even bigger imprint beyond South Florida's rap scene, dropping singles "Hellcat" ft. Eli Fross, "Trap Dance," and "Losses. Pat is currently signed to Fredo Bang's Bang Biz label. 
Music Xclusives caught up with the 6'3 rapper in Los Angeles to talk about his Haitian roots, growing up in Deerfield, FL, and all things from excelling on the football field, earning a scholarship to Indiana State, bouncing back from his scholarship falling through, and taking on music full throttle. Pat went on to offer refreshing insight into his positive perspective, taking care of his mental health, and being his best self at all times.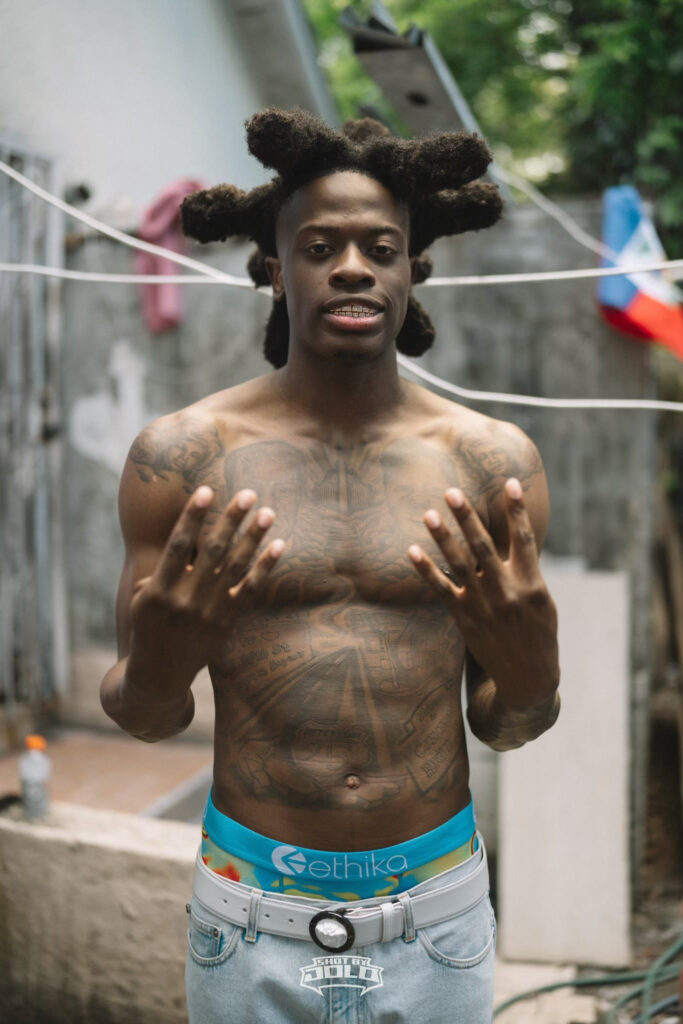 What was your favorite part about growing up in Florida and least favorite part?
I like how it doesn't get cold. It's really tropical. My least favorite thing would definitely be the hurricanes.
You're Haitian and proud. What's it like to rep your flag in the music game and be one of the few holding it down for Haiti?
It's a good feeling. It's a privilege to be Haitiian and do that, representing your culture. It feels good, man.
Did you have a favorite Haitian artist that you grew up listening to?
Yeah for sure. Wyclef was everything. 
Were some of your friends growing up Haitian – did you sort of gravitate to others of your background?
Where I'm from is an area called Deerfield. There's a whole lotta Haitians. I grew up with a lot of Haitians and we had a lot of similarities. 
While doing research, I noticed you mentioned that you never had a job and a lot of Haitians in your area struggled to get jobs. Would you say there's any racial discrimination that you experienced?
Yeah, it was hard to get jobs. Deerfield is a small area, so I think that has a lot to do with it. A lot of places liked to hire older people instead of younger people. Young people can be late, they're more irresponsible. 
What was it like going to Indianapolis for college?
Some parts are very racist, I'm not gonna lie. There's even a place called Whiteville. 
Did you prefer playing DB or receiver?
I played receiver and DB. I  liked DB more, because for every play you get a chance to make a play. If you're not getting the ball you have to wait around for it to come back to you. 
What's your favorite football player and team?
Julio Jones is my favorite player. He plays for the Atlanta Falcons. He went to the University of Alabama. I wanted to be like him growing up. 
What was your favorite thing to do growing up besides playing football?
I did a lot of stuff. I used to play basketball, baseball, and video games. Call of Duty was my shit. Modern Warfare 2. 
You started making music around 11th grade. What made you continue? 
I'm not gonna lie. It was football, but when I caught a charge in college, I lost my scholarship. My only hope was football, so when that went away, after that it was rapping. 
Was there a specific person that put you in the studio first like "keep going?" 
Yes, definitely. It was an engineer named DC. DC has been recording ever since I started, and he gives me a lot of constructive criticism. He is the one who really put the battery in the back to keep going. 
"Hellcat" with Eli Fross was the first time I heard of you being from NYC- I knew about Eli because he is from the city. When did you first realize music can take you worldwide?
Honestly, I never felt like it could take me worldwide. I was actually doing a lot of features with my homeboys. I didn't know it could go that far. I started recording with Kid Trunks and shit. When the Eli Fross song dropped it really clicked that I could collaborate with other people in different regions. 
You used to struggle with ad-libs because you were so lyrical. What's your favorite ad-lib?
My lil gun sounds. The gun echo goes crazy.
You were doing everything by yourself from videos, organizing, etc. Put out like 15 videos in 2 years. How did you do that?
It was a lot of hustling. Good money management. You can't spend without knowing when and how it would come back. You need to really understand where the money is going. 
What would be your dream venue to perform at if any?
I would say the Lyrical lemonade show. You know Cole Bennett does that shit. I'm in New York right now so Summer Jam in NYC too.  
Let's talk about Fredo Bang – I know he introduced you to a video guy. You mentioned that when you guys met, he was humble and that's what made you want to sign with him. You guys linked on a personal level first. Is that usually what you like to do when working with people?
Honestly, it's not necessary. But I would like to meet people first to know the vibe to know if they're good to work with. But if I don't get to meet them, I'lll still work with them. 
Taking care of mental health is very important in the industry. What do you do for that?
You need to find things to do bro. Go to the gym, meditate. It could be sitting on the beach and listening to the wind. Massages, self care. You need to love yourself first. 
Growing up, you listened to a lot of Eazy E, Fabolous, and "lyrical-miracle" rappers. When you started rapping, you mentioned it made too much sense, then you realized it's more about fun. When did you make that change?
Two years ago, when "Interstate Baby" came out. That's when I started having fun with it. 2020 Vision, Thru Da Door, and now Trapnificent.
Tell me about linking with Big 30 for D.O.A.
We were at the studio. I recorded "Raw" for him to get on, but he didn't want that one. We did another song called D.O.A. and he got on that one. We did that shit at like 4 or 5 a.m.
Who is your main inspiration in the game?
Drake for sure. When he came out a lot of people doubted him. He's a Scorpio too, so we have stuff in common. I'm not too deep into the horoscopes but sometimes that shit actually is true. You act like people who have your same sign sometimes. 
Is there anything that you would want people to know about you that they don't already?
People know everything [laughs]. Everything is on the internet. People be finding out stuff.
What are the top 5 things that you can't live without?
Water, my mom, phone, meditation, food. I meditate whenever I need. Only takes 10 to 15 minutes to clear your mind. 
Talk to me about Trapnificent. It was 2 years in the making. 
Yeah man I was sitting on so many songs. I took some time off and then it was back to it. 
How do you choose which songs make it onto the album?
I play it for people a lot. Follow the process. Listen to the engineers. I'm not gonna lie, I listen to what the girls have to say too. They're not gonna lie when it comes to music. Even if it's some gangsta shit. 
What was your mindset like when working on the album? What kind of vibe did you want to convey?
Honestly, I was just making music, not thinking too hard. I wasn't really thinking about what would be the best one. Just trying to finish the album. The order of songs doesn't matter to me that much. 
Have you ever thought about including a skit onto your albums? A lot of classic East and West coast songs have some skits. 
I'm not gonna lie bro, I never thought about doing a skit. I thought it fell off. You might've just sparked an idea. I know Wayne used to do that heavy back in the day too. I might have to do something with that. 
What was your favorite song on Trapnificent?
Stranded for sure.
What is the end goal for your career?
I see myself as an entrepreneur. I will own restaurants, real estate. I'm actually building a studio in Broward County right now. 
Maybe one day, all of the artists would come to your studio as like a "go-to" spot. 
Hell yeah. That would be dope.