Nicki Minaj continues to elevate her career, extending her longevity in this game. The 39-year-old platinum selling rapper has continued to reinvent herself. From many endorsements, brand deals, and even entering into the media world, it's clear the rapper has found a level of success that most female rappers tend to not see. And while most can say Minaj has a career that would satisfy many, she's making it clear that she's really just getting started.
Last week Nicki Minaj sat down with Joe Budden to discuss what her life is like now. What was interesting about this encounter is this was not the first sit down between the two. Budden and Minaj had already had two encounters with each other a couple years ago that left us questioning just how the two felt about one another. However, this interview would have a change of energy which showed light, and growth in both the parties.
In the interview with Joe Budden, Minaj touched on topics of how motherhood has changed her, the state of the music industry, and even how hard it is for black creators to break into the fashion world.
Let's recap the interview: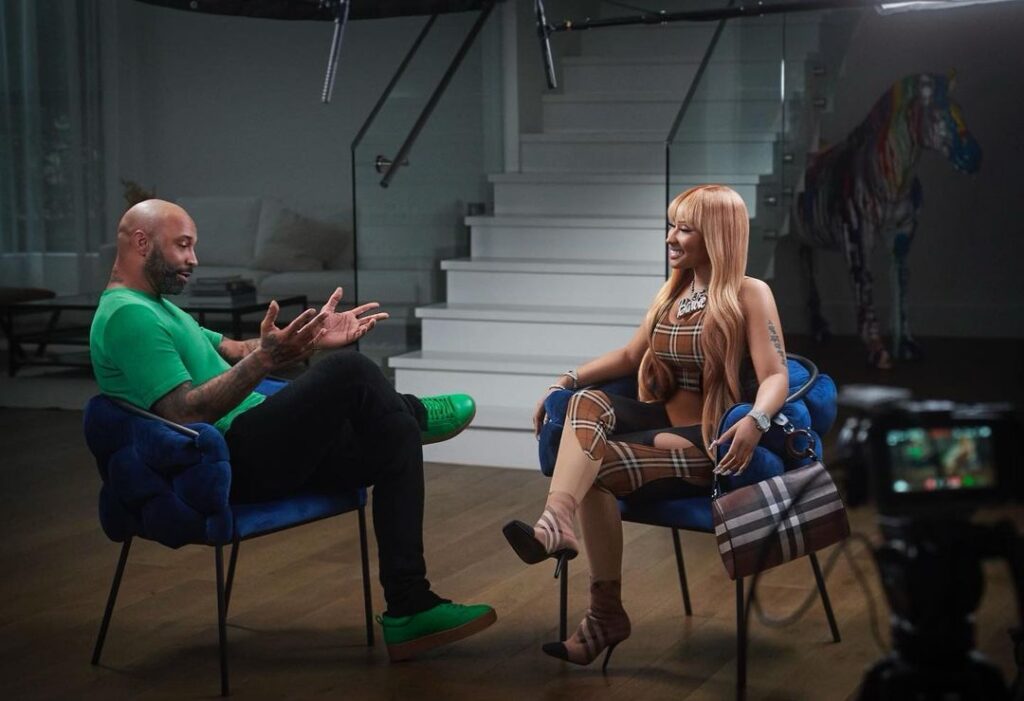 1. Nicki's Appearance- Nicki Minaj's appearance was the result of feeling insecure in an industry game that tells women certain body enhancement will make them more attractive and more successful. The rapper talked about how she felt the added pressure to get illegal butt injections in order to enhance her appearance based on the fact of the rappers around her constantly praising those type of women. Nicki, who is apart of one the most successful rap camps in the music industry Young Money, stated that there was a time where they would tell jokes about her small frame and and while they might have thought it was just jokes it affected her into thinking she had to change her body in order to be more valuable in the game. Although she doesn't put the blame on any of the rappers, she feels that there is a responsibility with this level of success that we must start being mindful of what we say to women. 
2. Motherhood- Nicki Minaj spoke about the effects of being a mother and how that has not only changed her outlook on life but the way she does music too. For some of her fans it was no secret that one of Minaj's biggest dreams was to become a mother one day. Historically, the rap game has taught us that when it comes to female MC's it is best that they wait on children while trying to have a career in hip-hop. Minaj fell victim to this thought process as well believing that having a child especially at the height of a career would have slowed things down. After building herself up to be one of the highest selling female rappers of all time Minaj quietly dipped off after getting married and conceived a baby boy. While we did get glimpses of her during her pregnancy, one of the things made clear was that her work did not slow down. With the likes of Gunna and other rappers reaching out for features during that time she was very careful about the songs released while "Papa Bear" was in her womb. She spoke about the energy transferred between a mother and child during that time and how she felt it's very important for her to not say certain things in order for his energy to stay pure. Minaj explained how motherhood has changed her because it's provided a certain level of peace that she feels she couldn't get otherwise. 
3. Music industry- The music business is hard on artists and if not very knowledgeable in how it works, their contracts, and the people that they keep around them, artist can find themselves settling for less or owing more to the game. Nicki Minaj has been in the game for 10+ years and has manage to be an artist that has seen success off of her music. Minaj announced how she's creating her own management company to help elevate her career in the music industry and then wants to expand that management company to other artists. Minaj let it be known that it is very important for you have a team around you that not only wants apart in the success but believes in your every move is going forward.
4. Fashion industry- For years the fashion industry has played on the grounds of being an exclusive club that those who deserve to be apart of it find it harder to penetrate. And while we have seen many African-American fashion designers find success in this world, the recognition of the African Americans who have inspired this world is still scarce. Nicki Minaj was very vocal about how the fashion industry has failed to acknowledge the very people that they essentially copy off of.  In 2018 Manaj dropped her hit single "Chun Li" which birth one of its most iconic lines that would later transition into her being able to get a brand deal with one of the top luxury brands. "Fendi Prints On" became a staple in the world and help secure a Fendi deal that would help put Fendi most known look back on the map. Nicki explained that before she entered the deal with the company she reached out to rapper and fashion designer Kanye West to see if maybe they could have did a collaboration that would elevate the African-American status in the fashion world. To Nicki's surprise Kanye passed on the idea. Kanye has been very vocal about his obstacles and breaking into the fashion industry as an African-American man but explain to Nicki that if he did any sort of fashion deal he would ultimately give it to his then wife Kim Kardashian. While Nicki didn't take offense to it because she understands the dynamics of how marriage works, she was a little bit taken aback because she feels the reason we can't get ahead as a people in these industries is because we don't support one another. Nicki's line with Fendi would go on to be their fastest selling line they've had in years.
5. Trendsetter- When it comes to a celebrity it's not always only about your talents but your impact in how you move people. For many hip-hop celebrities your brand can be built on your looks with what you wear down to the the hairstyle you rock. In the interview with Joe Budden, Minaj explained that many African Americans go unnoticed for their trends when it comes to some of the most iconic magazines in the world. She gave an example of how she did a magazine cover in which they wanted her to wear her natural color hair but turned around and put somebody else on the cover who wore a different color hair. She felt like this was a slap in her face because why would they try to tone down the black girl but would allow white women to express themselves freely. Minaj explain that they have been many styles started by black women that white women get to reap the benefits off of and she didn't think that it was fair. She also spoke about why some of our most iconic trendsetters not being featured on any of the US Vogue magazine was a controversial problem that we could no longer stand for. Nicki Minaj gave credit to rapper Lil Kim stating that when you look out into the hip-hop game you can see the influence of both her a little Kim and that alone should have put them on the cover of US Vogue. She explained that in order for this to change we would all have to stand together as a unit to let them know that we would no longer except them coming into our culture and pacifying it as theirs. Another interesting take the rapper had was in regards to trendsetting when it comes to jumping on music. Minaj explained it is OK for artists to have the ability to create a sound that fits their personality there are many artists who are capitalizing off other peoples sound and not knowing when it's time to be themselves. She explained that if you keep jumping on a trend or a sound you then become faceless as the artist and people don't know who you are. 
6. Mogul- Nicki Minaj is the highest paid female rapper today. And why we have seen our share brand deals from her including her own Moscato wine, clothing brand, perfume, and endorsement deals she admitted that she believes she should be a lot further in business. With her counterparts like Rihanna and Beyoncé reaching the billionaire status, Minaj did explain that had she known what she knows now in business she too probably could have seen that success. She let us know though that she currently is working on her own hairline, her own makeup brand, as well as some other things that could help her potentially reach this goal.
7. Media- Wveryone knows that in order for you to reach a certain level of success you have to have different levels of residual income from different industries and the rapper has not shied away from any of those. She has broken some records in the music industry, as well as the fashion industry and now is taking on the media industry. In 2018 Minaj premiered her radio station called Queen Radio which became one of Apple's music most successful radio stations on their platform. And while fans got to enjoy the radio host' wit, and feistiness there was definitely a want for more. After the hiatus on Apple Music we would not see Minaj  in the hosting chair until her 2021 cohost position on the Real Housewives of Potomac. Minaj explain that being in media is one of her dreams. Her dreams are still coming true as she just announced that Queen radio will now be moving over to a new platform provided by Amazon call Amp. This platform will allow her to not only be able to get her back I'm that hosting chair, but also allow way more interaction with her fans in which she says is the part she will enjoy the most.
8. Acting- What we can also expect from the rapper is more acting in the future. Nicki Minaj did graduate from LaGuardia High School which insured her a career in the acting business. We have seen her in movies like The Other Woman and Barber Shop: The Next Cut Minaj wants to break out into a role that requires a lot more responsibility. She did hint that there is a movie coming out with her role being extensive so we should be on the lookout for that.

It is clear that Nicki Minaj is well aware of what her past has been, living in the present, and securing her future.

Check out the interview below: