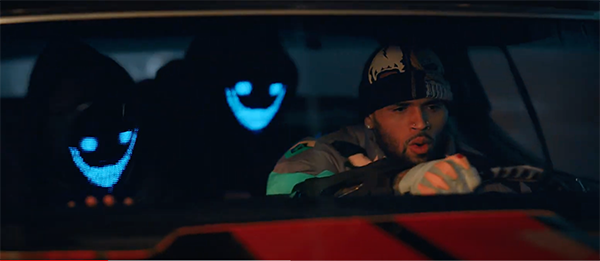 Chris Brown continues to prove himself as why he is considered legendary within the music industry. After his last album 'Indigo' which released in 2019, the 32-year-old made his return with an action-filled record called "Iffy."
Directed by Joseph Khan, the video first takes place in a dark alleyway where Brown is the getaway driver as his counterparts draped in scream-like masks made their escape from an undisclosed location and returned to the car. The music video showcased a female driving in a similar vehicle to Brown's as they  raced throughout the streets of Los Angeles, where you can see both him and his accomplices dancing on top of the hood of the cars. 
In the next segment, Brown came across a group of kids as they battled momentarily before he re-entered into the race car. Within the following segment, Brown began to battle against his clone, where they performed mixed martial arts and laser beams against one another. Once Brown fought off his contenders, they immersed into diamonds. 
The last segment of the video, Brown danced against a giant transformer before turning into a sports car. 
"Iffy" is the first single from Brown's 10th studio album 'Breezy,' which is slated to drop sometime this year. 
What are your thoughts of the record and video? Post your thoughts after the jump: