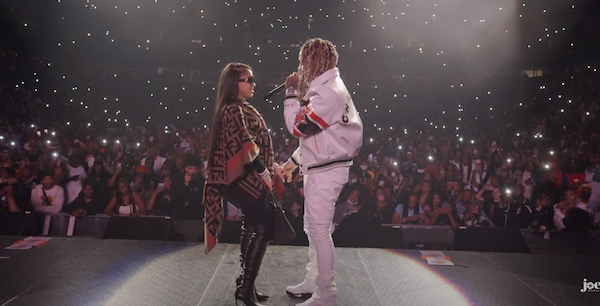 It's a celebratory moment for the two lovebirds! 
Saturday night (December 18) while performing in his hometown of Chicago, Lil Durk proposed to his longtime girlfriend India Royale in front of a packed arena at the United Center.
During his segment at Chicago's WGCI Big Jam concert, Durk brought his beautiful fiancé to the stage before getting down on one knee – unveiling the diamond studded 10 carat engagement ring.
The Chicago rapper professed his love to the mother of his child, "you know, I love you to death. You've been holding me down when I was going through a lot. You've been the realist to me…" nearly choking on his tear-filled sentiment, Durk popped the question.
The crowd screamed of joy witnessing the sentimental moment before them – to the point where they cheered India to say yes before she could give a definite answer.
Of course, the answer was yes.
Here is an up-close glimpse of the 10-carat bling.
The duo has been together since 2017, and shares a daughter, Willow who was born in October of 2018.
Congratulations to Durk and India on their engagement!